Everything you wanted to know about GPS Tracking
For those of you who are tasked with finding a GPS tracking device for your company and don't have enough information to make an informed recommendation, then this article is for you. Let's start off with the basics.
What is a GPS tracking device and how does it work? 
GPS tracking devices consist of a battery or electrical source, some have both, the ability to transmit over a cellular network, and a built in antenna.  GPS tracking devices come in many sizes and usually are hidden so they remain undetected. Global Positioning Systems, GPS for short, track movement and display location data on a map for simple viewing.
GPS tracking devices keep track any asset you want to know where it is and if it is moving or stopped.  For fleet managers, tracking trailers with GPS can save valuable time.  For instance, if you have a business where you leave a trailer at a construction site and it is now missing, a GPS tracking device would be able to notify you of its location.  You may be thinking one of your vehcile drivers stops unnecessarily and wastes time during the day. GPS tracking can display stop duration too, giving you a clear picture of where your equipment was and for how long. Asset tracking devices can be used to track a large variety of assets, including: trucks, vans, cars, antique automobiles, boats, 4 wheelers, motorcycles, roll-off containers for waste hauling, construction equipment like backhoes, bulldozers, bobcats, generators, lawn mowers, farm equipment and really just about any asset you want to track.
Global Positioning Systems used in fleets (trucking companies for example) track exactly where tractors and trailers are, if they are moving or stopped, and how long they have been stopped.  Trucking companies can track their vehicles as they travel down the road and see a line of movement or more commonly called a bread crumb trail.  GPS information can be used to create reports for detention time and estimated times of arrivals so customers will know when their freight will arrive.  Dispatchers and maintenance employees use GPS information to be sure trailers are rotated and to schedule maintenance for those assets used the most or as needed.
Global positioning system applications generally fall into 6 major categories: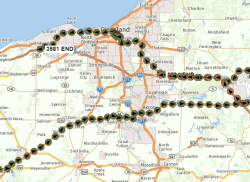 Inventory – think of this as a daily inventory or snapshot of your equipment location at specific time or when called.
Bread crumb trail: determining a series of positions over time.
Routing: Requires a Dispatch System but uses GPS information to give the vehicle driver the fastest or most logical route and alert when off route.
Tracking – monitoring object especially if lost or stolen
Mapping – creating maps of land, roads, buildings, etc.
Timing – GPS positioning can help create estimated times of arrival (ETA)
GPS asset tracking can help catch thieves in the act, locate stolen assets, and even alert owners when unlawful theft occurs.  Geo-fence is a feature that allows the owner to set a virtual perimeter, a trailer yard or terminal for example, and a fleet owner will receive an alert message if the vehicle moves out of the area, giving the fleet owner time to notify law enforcement and catch the thief in the act.
Are GPS tracking devices legal?
Yes and no is the answer.  It just depends on how GPS is being used.  For example, using a GPS asset tracking device to track your fleet throughout the work days is a legal use of this technology, but tracking someone else's vehicle or assets without their permission will certainly cause legal headaches.
Determining Return on Investment
Determining the Return on Investment (ROI) from GPS tracking system varies on how the system is used and for what purposes.  Here are sources of savings to look for when evaluating GPS tracking:
Asset Efficiency:  Vehicle operators who know the vehicle they are driving is tracking their movements tend to be far more efficient with less downtime, faster stops, and they complete their routes faster than those without GPS tracking devices.  Unscheduled stop and lingering to fill time can be greatly reduced.
Fuel is reduced through the use of more direct routes, idle time can be more easily identified, and reduced or almost eliminated, and drivers tend to drive less aggressively saving the company fuel costs and wear and tear on equipment.
Insurance costs:  Equipment with asset tracking devices installed can be much less expensive to insure.  While not recommended, some companies forgo theft insurance as a way to lower overall costs.
Time: Locating misplaced assets can be time consuming.  Often people need to drive around looking for missing assets.  Lost or stolen assets can be missing for extended periods of time only to be found much later, if ever.  If stolen, the longer an asset is missing, the harder it can be for law enforcement to find it.
Underutilized assets: underutilized assets are a drain on profitability.  When the asset is missing, it can't be used for other profitable purposes.
How much should you pay for GPS Tracking? 
Determining what GPS tracking devices cost and how much to pay for hardware and software costs can be tricky.  We need to think past the initial hardware cost and look too at the cost of any on-going or hidden fees?" Price is important no doubt, but the return on investment shown above needs to be considered here too.  Asking other fleet owners their experiences will help justify the costs or help set limits on how much to spend.
Let's take a deeper look.
Hardware Costs
Is renting an option
Ongoing monthly costs
Length of Term
Hardware costs vary greatly depending on type and how rugged they are.  Example, if the hardware will be located inside the asset (under the dashboard, inside a trailer, etc.) the costs can be less because the device can be less rugged.  On the other hand, if mounted on the chassis, under a trailer, or fully exposed to harsh environments (extreme heat, cold, vibration, dust, sunlight or darkness, water pressure, an automatic car or truck wash for example) then the hardware will likely cost more.  Prices range from under $100 to several hundred dollars each.
If low or no upfront costs are a priority renting might be a good option.  From a true cost perspective, renting GPS tracking hardware can end up more expensive than buying.  Be sure to compare all hardware costs including extra wires, mounts and fasteners, and install costs.  Financing rate needs to be considered too so that an all in hardware cost can be calculated.  As with most products, the more you buy the less the cost so buying in volume (all at one time) could work to your advantage.
On-going costs – Many GPS tracking require on-going (recurring) monthly charges.  They function like a cell phone, with a modem inside that communicates position location to a central server so that the location can be displayed on a map page.  That cellular connection requires a monthly service agreement can like a cell phone can come with other costs such as activation fee and length of terms.  If you cancel before the term, early cancellation fees may apply.
Here is a breakdown of typical costs of GPS tracking:
Generally, asset tracking monthly services pricing range from $9.95 to $35.95 per month depending per asset tracked depending on how often the GPS position is sent and how simple or complexity your tracking needs are.  Satellite tracking devices generally cost more and can exceed the numbers quoted above.
GPS Location Frequency:   The more often GPS position location is required typically the more the cost will be.  Some devices allow you to "ping on demand."  This feature may seems like a savings at first but usually comes at extra cost.
Installation:  GPS tracking companies can recommend preferred installation companies, do the install themselves, or train certified mechanics employed by the customers company to do the work.  If the company installs them themselves, be sure the warranty will still apply.  A typical installation costs around $100 but that can change depending on mounting location and other factors like remote locations, fleet availability, and fleet size.  Some battery powered tracking devices can be mounted with commercial grade two way tape, this is the least expensive installation and can be done with less skilled labor.
Preventing Theft
Being an excellent anti-theft device is one of the uses of GPS. Installing tracking device on vehicles will allow you to trace and locate it in case your car is stolen by someone. There are already several reports of recovered stolen assets, thanks to GPS technology.  Hiding the asset tracker is important.  Some mount to the frame of the vehicle, others on top out of site.  Cellular based trackers are very good at finding signals in covert locations and generally will work in a trunk, glove compartment, under the dash, anywhere on or in a trailer including underneath, and even hidden inside of a tail light.
Tracking for Law Enforcement
The police also take advantage of the uses of GPS. These devices can also be used by police and investigators in catching criminals using GPS tracking.
What different types of gps asset trackers are there?
All asset tracking devices use batteries to power it. The main differences between the common types of asset tracking devices is outlined below:
Satellite gps – Ideal for asset tracking in cellular-denied environments. The communication piece to the servers is done via satellite and the asset can be anywhere in the world and the device will work.
Solar gps– The built-in battery is solar powered and relies on solar panels built into the device to keep it running.
Battery gps– Powered by battery that can last from 6 months to 5 years depending on the battery life. This tracker relies on a cellular connection to transmit the data points to the server. This relies on cellular networks in the area to locate the asset.
Tethered gps–  Uses the power source of the asset to power it. Also, powers the internal battery in case the chord is cut and will continue to work for a short term amount of time. Usually 3 days – 6 months.
Untethered gps– This device uses a battery for its complete power source. Depending on the type of battery will determine how long it will last. Typically from 6 months to 7 years battery life. The battery can be chargeable or non-rechargeable.
What sort of assets can be tracked?
Business owners often need to keep a close eye on important assets: from fleets of company vehicles to expensive equipment to shipments of cargo.
The kinds of assets that can be tracked are nearly limitless. Companies that manufacture asset trackers can do custom designs for any type of asset that needs to be tracked. While it is most common for business owners to track fleet vehicles driven by their employees, it is also possible for them to track other objects as well. Other possible items to track are:
Pharmaceuticals
Containers on cargo ships
Artwork or artifacts
Weapons and ammunition
Computers, phones, expensive technical equipment
Precious metals
Hazardous waste
Time critical shipments
Can GPS tracking help me get higher paying job loads?
Yes. If you're a trucking company and you use a GPS tracking device on your deliveries, the data can be reported and shown to companies posting jobs on job boards for truck drivers. Many logistics companies require GPS location proof of pickup at customer's site with a copy of a signed bill of lading, GPS location proof of delivery at customer's site with a copy of a signed delivery receipt, estimated times of arrival to the pickup, and estimated time of arrival to the delivery. GPS information is sent to the logistics company along the route to continually update the estimated time of arrival. Timely deliveries help drivers get more loads and better paying loads. Conversely, not having GPS information can disqualify truck drivers from higher paying loads. It's as simple as making more money by using a GPS tracker, and making less if you don't.
When choosing a GPS asset tracking device (hardware and software) consider short term and longer term goals:
Make sure the device and the features offered meet your business needs.
Make a list of needs and wants, focus on products that meet your needs. Make sure the company you buy from has excellent customer service.
Check references from companies like yours.
Many vendors provide in-person or virtual demos, so try one first before making a commitment.
While the system you choose should fit into your budget, you shouldn't choose your GPS solution based solely on the price. Look for the best solution for your company that also fits your budget.
---