ELD Mandate: How Commercial Truck Drivers Provide eLogs to Roadside Enforcement Officers
Truck drivers may find the lure of early morning or late evening road time attractive: comparatively little traffic and greater opportunities to get the job done promptly. But with typical weekly mileage for drivers easily reaching 3,000, it's inevitable and statistically likely they'll meet with law enforcement. It's just the nature of business on the open road.
But with new federal rules in place requiring the use of eLogs and electronic logging devices (ELDs) in commercial trucks by December 2017, the question becomes: How do truck drivers provide their logs to roadside enforcement officers?
iGlobal, LLC, a fast-paced technology company, is publishing an ongoing series addressing the significant questions involving the government's recently implemented federal ELD mandate. This is the seventh article in this series.
Industry expert Annette Sandberg discussed key fleet issues during a conference late last year with FleetOwner, an online information source for fleet leaders. Sandberg was an administrator for the Federal Motor Carrier Safety Administration and deputy administrator for the U.S. Department of Transportation's National Highway Traffic Safety Administration.
Preliminary versions of the mandate underwent considerable modifications over the last decade of its development in an effort to devise a set of regulations and rules with the goal of making public roads safer and protecting drivers. Fleet owners are responsible for abiding by the mandate's dictates by equipping their trucks with the logging devices, which will take the place of paper recording.
Federal ELD Mandate Goes into Effect in December 2017
When truck drivers are stopped by enforcement officers after the mandate goes into full effect in December 2017, they must demonstrate with their logging devices that their vehicles are in compliance.
"The ELD rule requires certain transfer capabilities for all devices. An ELD provider must decide which type of transfer capability they will have," Sandberg said.
There are two types of capabilities:
Peer-to-Peer Transfer (Local Transfer): This requires the ELD (or eLogs) manufacturer to have both Bluetooth and USB 2.0 available
Telematics Transfer (Electronic Transfer): This requires the ELD (or eLogs) manufacturer to have both web services and SMTP email available.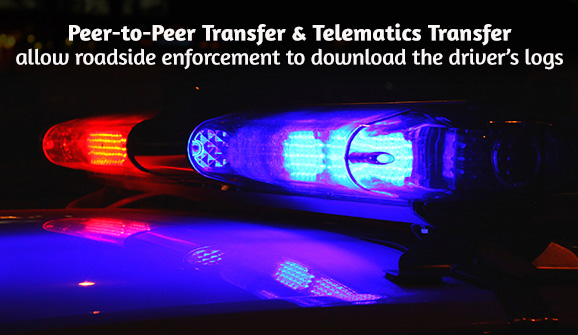 "These two types of transfer methods allow roadside enforcement to download the driver's logs," Sandberg said. "If for some reason the 'transfer' methods do not work, the device must allow the roadside officer to see the display without entering the truck."
"The new rule has additional data that must be on the display including items such as the driver's CDL number, beginning and ending odometer, and ELD malfunctions to name a few."
Get answers for other questions about eLogs. Next week we will address this question: "What is harassment and why does it happen?"
iGlobal, LLC specializes in providing technology solutions for the transportation, logistics and distribution industries. We build hardware and develop software that answers complex business, critical problems and bring immediate ROI to our customers. Contact us, or call 877-822-8855 for information on how our fleet management systems can help companies and drivers stay compliant with FMCSA rules.
---