ELD Mandate Requirements
Fleet managers and industry leaders may be justified in their trepidation over the federal government's new ELD mandate, which requires commercial vehicles to be equipped with electronic logging devices. With more than 800 pages and years in the making, the new regulations are intended to make roads safer, fleets more accountable and the industry more efficient and productive.
While the ELD mandate become law early last December, analysts say fleets are still trying to make their way through the heavy congestion of rules, restrictions, requirements and road time limits that the law overlays on the industry. Trucking companies have until December 2017 to comply. We at iGlobal LLC are tackling the mandate's biggest obstacles. This is the sixth in the series and explores the question: What other requirements are included in the ELD mandate? An ELD is an electronic logging device.
Industry expert Annette Sandberg recently addressed top questions during a conference with FleetOwner, an online information source for fleet leaders. Sandberg was administrator for the Federal Motor Carrier Safety Administration and deputy administrator for the U.S. Department of Transportation's National Highway Traffic Safety Administration.
While the mandate delineates exceptions and a timeline for fleet implementation, it details what documents truck drivers must maintain to remain compliant.
ELD Mandate Requires Drivers Must Possess Up To Eight Supporting Documents
"The requirement behind maintaining supporting documents in conjunction with the ELD is to help carriers identify all work time that should be logged as on-duty not driving," Sandberg said. Truck drivers must maintain up to eight supporting documents.
The ELD mandate has five categories of supporting documents:
Bills of lading, itineraries, schedules or equivalent documents that indicate the origin and destination of trips
Dispatch records, trip sheets/records or equivalent documents
Expense receipts
Electronic mobile communication records (such as those through a fleet management system)
Payroll records, settlement sheets or equivalent documents regarding payment to a driver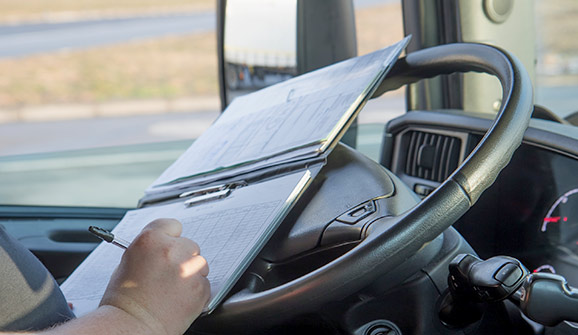 "If a carrier does not have eight documents that contain all the above elements, they should keep any document that contains all the above elements except time, as that document would still be considered a supporting document. Only drivers still on paper RODS (record of duty status) will be required to keep toll receipts in the future," Sandberg said.
"Drivers are not required to keep all supporting documents in their possession for roadside enforcement. However, if they have them available in the cab of their truck, they must provide them to roadside enforcement personnel if requested. A driver only has to provide the document in the form they have available to them at the time of the request."
iGlobal, LLC president Eric Bauer said his company can guide fleets through the process of understanding the mandate's implications and direct managers to fleet management equipment that will help their vehicle fleets comply with the ELD mandate. He said iGlobal, LLC eLog technology far exceeds industry standards with the highest-grade and easiest to use equipment.
iGlobal, LLC is a fast-paced technology company that specializes in providing technology solutions for the transportation, logistics and distribution industries. We build hardware and develop software that answers complex critical business problems, and bring immediate ROI to our customers. Contact iGlobal, LLC, or call 877-822-8855 for information on how our fleet management systems can help companies and drivers stay compliant with FMCSA rules.
In next week's article, we will address: "How does a driver provide their logs to roadside enforcement officers?"
---