ELD Mandate: What Happens If A Company or Driver Does Not Comply?
With the federal mandate requiring the use of electronic logging devices (ELDs) in commercial trucks by December 2017, many transportation companies and truck drivers are likely wondering what can happen to those who don't comply.
As a fast-paced technology company, iGlobal, LLC is continuing its blog series addressing the significant questions like this one that involves the government's newly implemented federal ELD mandate. This is the eighth article in this series.
Industry expert Annette Sandberg spoke about the ELD mandate with fleet leaders last year at a conference by FleetOwner, an online information source for fleet leaders. Sandberg served as administrator for the Federal Motor Carrier Safety Administration (FMCSA) and deputy administrator for the U.S. Department of Transportation's National Highway Traffic Safety Administration (NHTSA).
What Happens If A Company or Driver Does Not Comply With the ELD Mandate?
According to Sandberg, the FMCSA considers this type of non-compliance by motor carriers and drivers the same as all other non-compliance. Such penalties will be assessed based on the culpability and history of prior offenses. By statute, these factors must be considered in assessing a civil penalty.
However, if a motor carrier or driver disables, deactivates or otherwise tampers with an ELD, FMCSA will consider this type of tampering an acute violation.
Additionally, if a motor carrier fails to retain ELD information, this also can be considered an acute violation, Sandberg said. All other types of ELD violations would be considered critical.
How Do I Choose An ELD Vendor?
The ELD mandate requires all ELD vendors to self-certify their devices.
In addition to self-certification, the vendor must register the device with FMCSA and send in certain required documentation, Sandberg said. FMCSA will maintain a list of self-certified vendors available for review by motor carriers and drivers. This list will be used to ensure a prospective vendor is properly registered.
While the FMCSA will supply testing protocols to all vendors, Sandberg said a vendor is not required to use the FMCSA testing information.
FMCSA will remove a vendor from the registered list if an ELD is discovered to be non-compliant. The law outlines the process whereby FMCSA may remove a vendor from the registered list. This gives motor carriers and drivers access to vendors that are compliant with the ELD certification and registration process.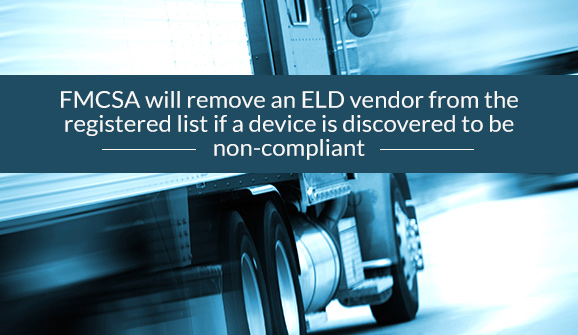 "Motor carriers are strongly encouraged to conduct appropriate due diligence on any vendor they select to ensure the device and system meet the carrier's needs," Sandberg said.
iGlobal, LLC specializes in providing technology solutions for the transportation, distribution and logistics industries. We develop software and build hardware that answers complex business, critical problems and brings immediate ROI to our customers. Contact iGlobal, LLC, or call 877-822-8855 for information on how our fleet management systems can help companies and drivers stay compliant with FMCSA rules.
---