Feds Conclude Data Collection, Begin Analyzing 34-Hour Restart Study
The Federal Motor Carrier Safety Administration (FMCSA) completed the data-collection phase of its study of the 34-hour restart rules. Congress had mandated an analysis of the 2013 restart rules following protests by trucking groups arguing that the regulations would increase the risk of road crashes.
The next phase involves the analysis of the data collected from 220 drivers and more than 3,000 driver duty cycles. The analysis report must be completed and sent to the U.S. Department of Transportation's Office of Inspector General for review. Once that review is complete, the report is submitted to Congress. Congress authorized the study and the rule suspension in 2014.
The 34-hour rule required drivers to include two consecutive 1 – 5 a.m. periods in any restart before beginning a new work week. Federal regulators argued that the limits on work hours would reduce "excessively long hours" that may contribute to driver fatigue and crashes.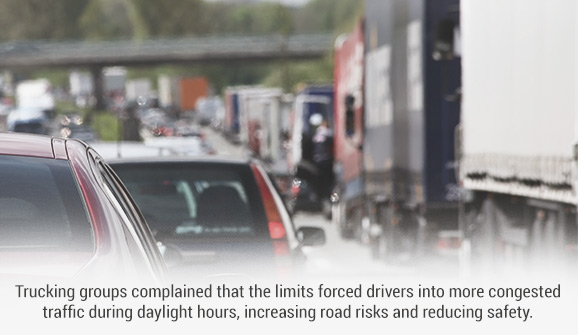 Trucking groups complained that the limits forced drivers into more congested traffic during daylight hours, increasing road risks and reducing safety.
A Virginia Tech Transportation Institute study team compared driver experiences under both scenarios: under the proposed rule changes, which restrict driving, and under the suspended rules. The data was collected by electronic logging devices.
Legislative and trucking analysts are not sure whether the agency's report on the institute's study would lead to the rule's rescission or whether Congress must act to reinstate the rules. The agency reportedly has until February to submit its report but is expected to have it by the end of 2015.
Drivers are under current rules that allow them to restart their work week duty clock after 34 hours off duty. Those conditions are expected to remain in place at least through the fall of this year, the industry's busiest season.
Data collection took five months and included reviews of 75,000 driver alertness tests and more than 22,000 days of driver sleep analyses.
Analysts say last week's short-term government funding bill cleared by Congress will have little effect on the rule changes. The bill doesn't include policy riders and doesn't affect federal transportation funding.
iGlobal LLC monitors trends and news in the trucking industry to guide managers in wise investing for successful fleets.
Global LLC's Mobile Data Terminals track drivers' performance, status, critical events and hours of service. Drivers don't have to monitor their hours manually; the electronic logs visually countdown weekly hours remaining, daily on-duty totals, daily driving time, 30-minute break status, 34-hour restart and off duty times. This enables drivers to focus on the task of transporting their cargo rather than performing paperwork, iGlobal LLC president Eric Bauer said.
Some driver oversight violations that would be eliminated by iGlobal LLC's EDTs include:
Failure to take a break.
Failure to take a long enough break.
Exceeding daily driving hours.
Exceeding daily duty hours.
iGlobal LLC builds hardware and develops software that resolve critical business dilemmas, especially those involving fleet management and communication technologies.
Contact us today for a demonstration or to learn more!
---