Feds Provide Help with Federal ELD Requirements
Fleet operators who have not yet installed electronic driver logging devices have less than two years to equip their trucks following passage of the new federal ELD requirement earlier last month.
As industry leaders and economists contemplate the wider implications of the mandate, government agencies and organizations are providing assurances and direction to help steer fleets through the bureaucratic morass.
Passed by Congress and signed by the President, the mandate gives fleets two years – December 2017 – to comply with provisions of the new rule, which overlays strict controls on drivers' duty hours and establishes penalties for failure to comply with regulatory requirements.  Fleets who already have installed electronic logging devices have an additional two years – December 2019 – to comply.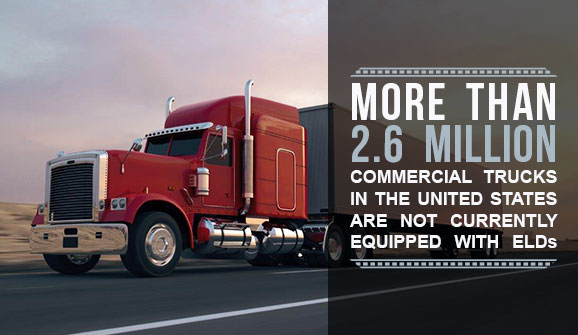 The Federal Motor Carrier Safety Administration addresses some common concerns involving the mandate's requirements:
ELD manufacturers are responsible for registering and certifying their units to comply with the mandate.
Technical specifications between ELDs and automatic onboard recording devices (AOBRD) differ. Manufacturers can inform current AOBRD owners if their devices are capable of being updated to meet ELD requirements.
The FMCSA provides a list of ELDs that comply with the mandate. ELDs must conform to technical mandate specifications, be certified as compliant and be registered with FMCSA.
The FMCSA provides a registration page for registering ELDs.
Federal officials said the mandate's requirements will create safer roads:
Minimum performance and design standards for hours-of-service (HOS) and the ELOGs.
Requirements for the mandatory use of ELDs by drivers required to prepare HOS records of duty status.
Requirements concerning HOS supporting documents.
Measures to address concerns about harassment resulting from the mandatory use of ELDs.
The mandate has received mixed reviews in the trucking industry. Some believe the new requirements are going to crush smaller companies while others believe the transition to technologically more efficient and streamlined processes will revitalize an industry undergoing growth pains.
More than 2.6 million commercial trucks in the United States are not currently equipped with ELDs, and managers are predicting the expense of equipping their trucks with ELDs could sideline smaller fleets.
"A lot of smaller carriers are going to have a tough time," said Mark DiBlasi, president and CEO of Roadrunner Transportation Systems.
iGlobal LLC president Eric Bauer said the learning curve for ELD use may feel steep, but the transition will be considerably easier than anticipated. He said iGlobal LLC devices comply with federal requirements and are as easy to use as bank ATMs.
Bauer said the award-winning company provides intensive and exceptionally customer-friendly service to help walk managers and drivers through the process of using iGlobal LLC technology.
---