iGlobal Offers $100 Discounts on GPS Trailer-Tracking Devices at WasteExpo
As stationary commercial outlets continue employing new ways to keep their stock secure and protected from theft with technological safeguards, the old days of highway robbery are apparently on the rise as thieves increasingly look for better opportunities on the open road.
Fleet leaders are starting to come to terms with the reality that only sound investments in reliable technological solutions can stem the rising tide of theft of commercial trucks and equipment with trailer GPS tracking.
Nearly $1 billion is lost nationwide to theft of construction equipment and tools alone, according to the National Insurance Crime Bureau. Commercial trucking analysts say more than 70 percent of fleet owners have experienced some form of equipment theft.
GPS Trailer Tracking Devices Help Curb Loss From Commercial Theft
iGlobal LLC, the premier source for technological solutions for commercial fleet challenges, is offering $100 discounts on its popular iVision X.5 battery-powered GPS asset-tracking device is a state-of-the-art tracker that's sturdy, reliable and easy to install. iGlobal, LLC representatives are attending WasteExpo in Las Vegas June 7-9, 2016.
More than 13,000 fleet representatives are attending the expo, the most successful and prominent conference of its type in the industry. Experts are hosting sessions on waste, recycling and organics. Nearly 600 exhibitors have displays on the latest products and technologies.
iGlobal, LLC is offering $100 discounts on what's becoming an increasingly popular and indispensable technological tool for fleet leaders striving to keep accurate and consistent tabs on their equipment and resources. Representatives will be at booth 5220.
Ranked as an inexpensive and easy-to-install technological marvel, the untethered iVision X.5 GPS asset-tracking device has a durable, lithium-ion non-chargeable battery that lasts for years. The device's battery long life enables the iVision X.5 to send one GPS location signal per day for up to five years.
Fleet managers can mount the devices anywhere on their equipment, including trailers, tractors, roll-offs and containers. Here are some specifications on iVision X.5 and its GPS trailer-tracking capabilities:
5-year battery life on a single charge and one location per day
Sealed and rugged enclosure
Weather, temperature, humidity, shock and vibration proof
Small size: 2.25 inches by 10.25 inches by 1.4 inch.
Lightweight: 32 oz.
Superior internal antennas for both cellular and GPS
Mounts virtually anywhere for easy, inexpensive installations
Over-the-air serviceability with anti-jamming technology
Web portal viewing from the Internet
12-month manufacturer's defect warranty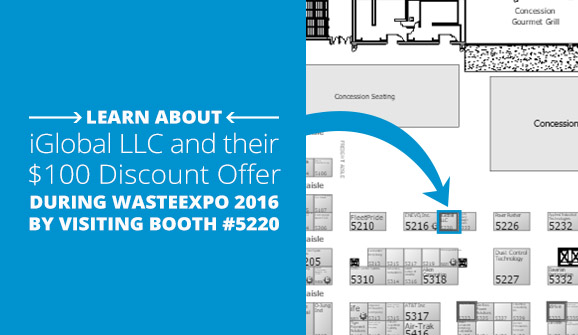 "Are you searching for your trailers or tractors? Boom. They're all there," Bauer said in describing how the devices provide information. "How would you like to know where your assets are and how long they've been there?"
Trailer GPS tracking "is instant inventorying."
Global, LLC specializes in providing technology solutions for the transportation, logistics and distribution industries. We build hardware and develop software that answers complex business, critical problems and bring immediate ROI to our customers. For more information, please contact iGlobal, LLC, or call 877-822-8855.
---