Save on GPS Trailer-Tracking Devices at Truck Show
"Scientia potentia est" is a phrase attributed to 17th-century philosopher Thomas Hobbes. Translation: Knowledge is power. In the world of commerce, it's a profound adage and a guiding principle for any successful business plan.
It may have even more sway in the trucking industry where fleet headquarters are sometimes thousands of miles from the bread and butter of their business: their trailers and their equipment. Where's the power to succeed when you don't know where your trucks and trailers are? The solution: trailer-tracking technology.
iGlobal, LLC is offering cutting-edge technological devices that will allow fleet managers to know precisely where their equipment is at any particular time. iGlobal, LLC trailer-tracking devices, taking the lead in the trucking industry, truly exemplify the phrase "knowledge is power."
iGlobal, LLC Offers $100 Discounts on Trailer Tracking Technology
iGlobal, LLC executives are attending the Mid-American Trucking Show today and Friday in Louisville, Kentucky. Representatives are offering $100 discounts on site on these industry-leading devices that will ensure fleet managers always have the knowledge they need to guarantee their businesses succeed and thrive in the rapidly expanding tech-center industry.
iGlobal, LLC president Eric Bauer said the GPS trailer-tracking technology will "equip you for success."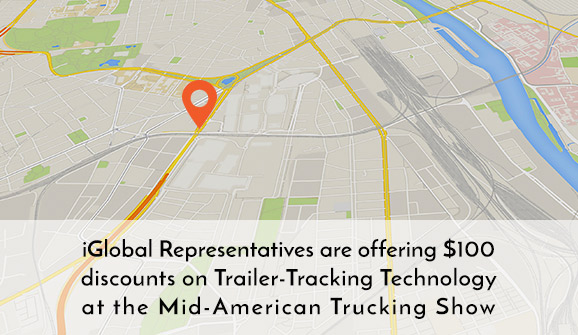 Bauer points to the many advantages of trailer tracking, including the elimination of lost or misplaced resources, the increased oversight of truck-route planning, the greater responsiveness to customers, the reduction in insurance costs and the protection of their business's most important commodity, their trucks. "Everyone likes their trucks," Bauer said. "It becomes part of them."
The $100 discounts are being offered for a limited time. Visit iGlobal, LLC at booth 67124 for more information or for a demonstration. You may also enter to win a free tablet!
iGlobal, LLC specializes in providing technology solutions for the transportation, logistics and distribution industries. We build hardware and develop software that answers complex business, critical problems and bring immediate ROI to our customers. Contact iGlobal, LLC, or call 877-822-8855.
---