iGlobal Presents Cutting-Edge Asset-Tracking Devices at Expo
Hundreds of fleet leaders left the WasteExpo in Las Vegas earlier this month more knowledgeable and prepared for a future of technological innovation and heightened regulatory change.
iGlobal, LLC, a technology company at the forefront of fleet communications, joined several hundred other world-renowned firms at the expo June 7-9, 2016, that focused on waste, recycling and organics. iGlobal showcased its cutting-edge GPS asset-tracking devices.
Experts in the waste and conservation industries conducted seminars throughout the three-day conference that attracted nearly 15,000 leaders from fleets throughout the nation.
iGlobal offered GPS asset tracking devices, which are rugged, highly reliable, and give fleet managers precision information on the locations of all their trucks, trailer, containers, and any other asset tracked.
iGlobal thanks all those who attended the expo and who visited our booth. We appreciate your interest and are available to answer any of your questions about our products and technology.
iVision X.5 Rises to Forefront Among Premier Asset-Tracking Devices
Our iVision X.5 battery-powered GPS asset-tracking device has proven to be a remarkable tool for pinpointing misplaced or stolen assets and a safeguard against high insurance rates.
The untethered iVision X.5 ranks as an inexpensive, easy-to-install technological marvel with a durable, lithium-ion battery that lasts for years. The long life of the unit's battery enables the iVision X.5 to send one GPS location signal per day for up to five years. The devices can be installed almost anywhere on equipment and are especially effective for trailers, tractors, roll-offs, backhoes, containers and other detachable units.
Here are some specifications on the iVision X.5 GPS equipment tracking device:
5-year battery life on a single charge and one location per day
Sealed and rugged enclosure
Weather, temperature, humidity, shock and vibration proof
Small size: 2.25 inches by 10.25 inches by 1.4 inch.
Lightweight: 32 oz.
Superior internal antennas for both cellular and GPS
Mounts virtually anywhere for easy, inexpensive installations
Over-the-air serviceability with anti-jamming technology
Web portal viewing from the Internet
12-month manufacturer's defect warranty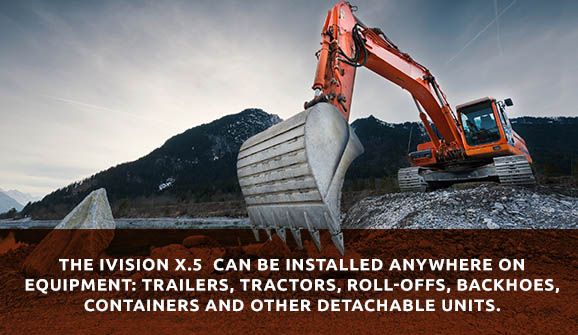 Thinking about the benefits of asset-tracking devices? We'd love to hear from you and discuss how iGlobal, LLC's "Tough Tech for Tough Trucks" can make a difference in your fleet, and if you act soon, iGlobal, LLC will extend the special show pricing offered.
iGlobal, LLC specializes in providing technology solutions for the transportation, logistics and distribution industries. We build hardware and develop software that answers complex business, critical problems and bring immediate ROI to our customers.
Contact iGlobal, LLC, or call 877-822-8855.
---