The Season of Tradeshows – We're On the Move!
The past month or so has taken us on the road to Louisville, Cincinnati and most recently Vegas. The next stop is Columbus, Ohio this week and then St. Louis next week. Our schedule maintains a steady pace from now through the summer and early fall. Why all the traveling you ask? In one word: Tradeshows.
Yes, that's right – it's tradeshow season and we're making the rounds to connect with prospective customers attending these events. It's also a good time to network with others in the transportation world to learn about trends in the industry. According to Metro Exhibits, a tradeshow marketing agency, transportation tradeshows are listed among the top industry sectors that have seen growth in attendance in the past year.
Who Goes To Tradeshows?
Tradeshows typically attract diverse groups including those attending the show and those exhibiting products or services. And, depending on the nature of the show, you may find a variety of people looking to take it all in from the general public to executives or owners looking to make key purchasing decisions for their companies.
82% of tradeshow attendees have buying authority or power to influence purchases. Source: 2013 Trade Show Trends Report /Exhibit Surveys, Inc.
67% of tradeshow attendees represent a new prospect and potential customer. Source: Exhibit Surveys, Inc.
The top 3 goals for exhibitors at tradeshows: brand awareness, lead generation and relationship building. Source: Skyline Exhibits market research
What's In It for Us?
We learn a lot at tradeshows, especially what potential customers are looking for and how we can fit their needs. While these events typically attract thousands of attendees, as a vendor, it is our goal to reach a variety of businesses from our booth and other networking opportunities.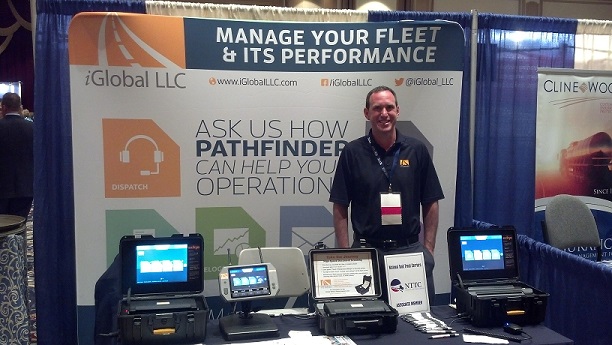 The main attraction for us is that tradeshows allows more time to provide hands-on demonstrations of our family of MDTs and educate the industry on how they can help a driver or fleet save time and money. We offer a variety of features available on our MDTs including text/audio messaging, in-cab scanning, Elogs, and GPS. Exclusive pricing on equipment, and packages for unlimited text/audio messaging and scanning are available.
We're On the Road Again
This week, we'll make a stop in Columbus, Ohio to exhibit at the Ohio Trucking Maintenance Council & Ohio Trucking Safety Council. This event on May 8 is geared to seminars about safety and best practices in the industry. The tradeshow component will include OEM and after-market parts vendors, maintenance and safety suppliers, truck, automotive and equipment displays.
We are also gearing up to exhibit during the TCA (Truckload Carriers Association) Safety & Security Annual Meeting from May 18-20 in St. Louis. You will find us at Booth No. 102! We are one of 38 vendors registered at the show. The majority of fleets are truckload, meaning they pick up full load commodities.
And after a slight break, our team picks up again on July 25-26 at the Expedite Expo at the Roberts Conference Centre in Wilmington, Ohio. This show, billed as America's largest expedite trucking show, features expediters who handle a variety of freight. The Expedite Expo is open to the general public with free admission and parking.
Make plans to visit us during an upcoming tradeshow near you. The season is just getting started and we have a full schedule later this fall, so check back to see where we're heading next.
---