Join Us At The 2014 Great American Trucking Show!
iGlobal LLC is set to greet thousands attending the 2014 Great American Trucking Show, which opens this morning at the Dallas Convention Center in Dallas, TX.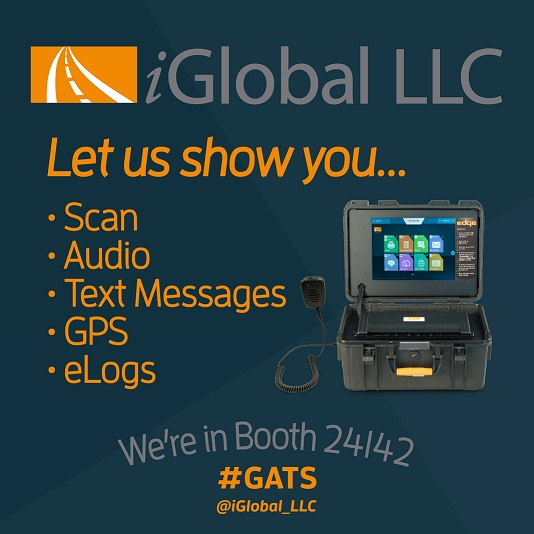 During the 3-day event, the iGlobal team at Booth 24142 plans to highlight a number of upgrades including the launch of the no per-scan-fee in-cab imaging package that reads bar codes and populates reference numbers for instant transmittal from the truck cab to the web, and simplified Elogs so that little, if any, driver training is required.
"This has been a phenomenal year for us," says Eric Bauer, president.  "We launched new, easy-to-use user interfaces both in the cab and in the office, as well as introduced the industry's only CB push-to-talk voice and messaging system that leverages cellular communication in the in-cab computers. In addition to the expanded text messaging capabilities, all of the new features come with no additional monthly cost to our customers, thus eliminating the need for company paid cell phones."
iGlobal's integration with TMW Suite this year "has really been the icing on the cake for us," Bauer said. TMW is one of the nation's largest and most respected software providers within the transportation technology market.  Our integration is now certified and beta testing with our first customer was completed in June.
Now that we are a TMW Alliance Partner, TMW System's customer base currently using TMWSuite benefits too. Those who are looking to leverage the full line of in-cab computer and document imaging products including in-cab scanning, create accurate driver settlements, and reduce DSO, can now easily do so.
"We believe we have the highest ROI of any affordable in-cab system on the market today," said Bauer. "The payback is realized in days, not months."
iGlobal is excited to begin this new chapter and offer more functionality to our valued customers in the transportation industry.  If you would like to learn more about our full line of products and services, visit our website or follow us on Twitter and Facebook.
---