Papa John's Corporate Fleet Manager Uses Equipment Tracking Device
A half century ago, it might take a car thief with a screw driver and a knife five minutes to steal a brand new convertible Mustang loaded with a 260-cubic-inch V8 engine. And it might take police investigators weeks or months (if ever) to recover the stolen property. At $3,577 the 1964 ½ Mustang – which included the luxury extras of air conditioning and an automated top – was a hefty investment.
Some 52 years later, it would take the modern thief the same amount of time with the same tools to snatch that Mustang. And it might take modern investigators the same amount of time to recoup the stolen property (which lacks the modern GPS equipment tracking devices and other modern technological marvels that keep cops and crooks on relatively level ground).
Where Is It and What's It Doing?
But not Chris Silliman's Mustang. Not anymore. Silliman, the Corporate Fleet Manager for Louisville, Kentucky-based Papa John's, owns an original Mustang, in mint condition, with 128,000 original miles. The only difference: It had a new alternator installed, two paint jobs and a new convertible top. Everything else is the same as it was when it came off the Ford assembly line with all the hoopla and fanfare of that new breed of sports cars. Except for one small item.
This mad machine has one of iGlobal, LLC's iVision X.1 gps asset-tracking devices. That's bad news for the bad guys. In fact, when Silliman wants to know what his Mustang is doing and exactly where it is – if perchance in one of those nonexistent moments he isn't behind the wheel, he can find out in an instant: It's making a left turn on Main Street off Mayberry Drive at 3:09 p.m. in Small Town U.S.A.
Boom: Cops bust bad guy. Mustang returned to owner. Silliman is sold on the iVision X.1. The unit was installed on his Mustang two months ago. (He won't say publicly where on the vehicle.)
"It's the best thing for raw tracking," he said.
Silliman first entertained the idea of investing in the iVision X.1 earlier this year when he watched a demonstration at a trucking conference. A long-time Mustang aficionado, Silliman had just acquired the classic Mustang from his wife's uncle. The device's simplicity and utility struck a chord, prompting him to ask iGlobal LLC leaders about establishing some form of dealership program.
He said he's confident the iVision X.1 will revolutionize so many segments of the transportation industry and even benefit families with young – and occasionally adventurous – drivers.
"This thing is so simple and so easy," he said. Owners of small businesses especially would benefit from the iVision X.1. Lawn care entrepreneurs, owners of pay-here car dealerships and small fleet managers would reap the greatest return by giving them a technological tool to monitor their vehicles.
"I believe there's so much room to grow with this," Silliman said. The low cost makes the device affordable and convenient. "That's pretty cheap peace of mind."
While Silliman said he invested in the tethered iVision X.1 to keep tabs on his prized Mustang, he said owners of muscle cars would attain an unprecedented level of security and assurance over their investments.
With a 6-month rechargeable battery, the iVision X.1 was designed for long-term use. It has a rechargeable lithium battery that connects to a 12- or 24-volt system. The unit can be installed in a vehicle, machine, trailer or device with a power source.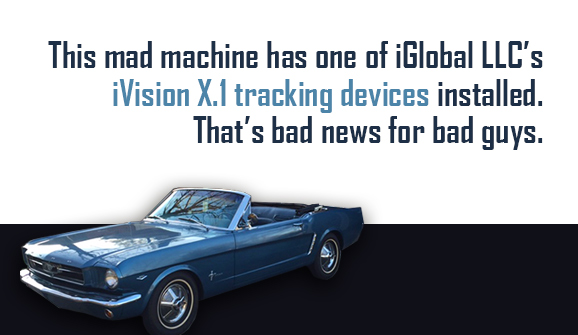 Here are some specifications of the iVision X.1:
Web portal viewing from the internet
12-month manufacturer defects warranty
Superior internal antennas for both cellular and GPS
Weather, temperature, humidity, shock and vibration proof
Mounts virtually anywhere for easy, inexpensive installations
GPS positioning every three minutes
Small size: 2.15 × 4.33 × 1.59 inches
Lightweight: 12 ounces
Six months with single message cycle per day on fully charged battery pack
Over-the-air serviceability with anti-jamming technology
Provide the latest location, breadcrumb trail and proximity search
GEO fence capable
Are you considering asset tracking devices? iGlobal LLC specializes in providing technology solutions for the transportation, logistics and distribution industries. We build hardware and develop software that answers complex business, critical problems and brings immediate ROI to our customers. Contact iGlobal, LLC today!
---