Senate Passes Bill to Correct 34-Hour Restart Rule Flaws
The Senate Appropriations Committee unanimously passed a $56.5 billion funding bill that addresses potential flaws in the 34-hour restart rule. The wording in the Department of Transportation's bill attempts to remedy what many trucking fleet leaders believe would hamper the industry. The bill establishes a 73-hour cap on drivers' work in a 7-day consecutive period after drivers use the 34-hour restart.
The Department of Transportation is conducting a study to determine the safest set of regulations for commercial trucking fleets. If the study concludes that the latest set of regulations – those established after July 1, 2013 – are safer, then drivers would have to use the 34-hour restart to reset their weekly schedule, but drivers' workweek must include two 1-5 a.m. breaks. The work-week restart provision could only be used once a week, according to Fleet Owner.
"Through considerable negotiation and compromise, this bipartisan bill makes important investments in our nation's infrastructure, helps meet the housing needs of the most vulnerable among us, and provides funding for economic development projects that create jobs in our communities," said Sen. Susan Collins, R-Maine, chairman of the Senate Transportation, Housing and Urban Development Appropriations Subcommittee.
"This legislation assists families in need, funds grants to help reduce homelessness, increases the safety of our nation's highways and airspace, and supports transportation infrastructure and community development projects that will help grow our economy."
Study To Examine Restart Rule Safety
If the study concludes earlier regulations were safer, the bill would institute other changes to hours-of-service limits, which would include primarily the 73-hour cap following the use of the 34-hour restart, according to Overdrive Magazine.
"A driver who uses that restart rule may not drive after being on duty more than 73 hours in any period of seven consecutive days," the bill states.
Provisions in the bill aim to correct what some see as a possible misinterpretation of the regulations enacted last year that may rely on the rolling recap of 60-hour weekly work limits in a 7-day period and 70 hours in eight days, according to Transport Topics. The intent of last year's funding legislation was to deal exclusively with the two consecutive mandated early morning breaks, which were implemented in 2013. However, lawmakers suspended the restart provision until the passage of the 2015 funding bill.
Lawmakers and federal officials argue that duty-hour restrictions and work-week caps help reduce driver fatigue and improve road safety. Officials have not indicated when the study would be completed.
American Trucking Associations "is pleased that the committee took such swift action on a bipartisan fiscal year 2017 Transportation, Housing and Urban Development appropriations bill, which includes a provision that underscores Congress' intent that America's truck drivers can continue utilizing the hours-of-service restart provision if a congressionally mandated study is unable to demonstrate the July 2013 restart restrictions improve driver safety and health," ATA Press Secretary Sean McNally said in Transport Topics.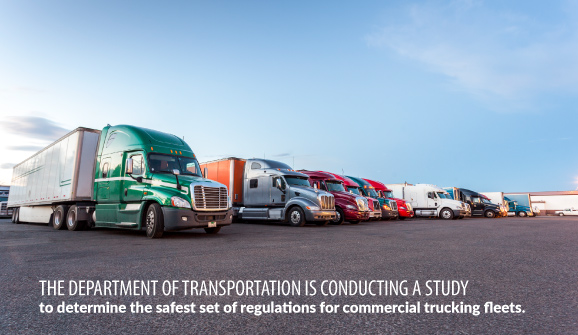 iGlobal, LLC, your premier source for trucking technology, monitors news and trends in the industry to help our clients make their way through the government's regulatory requirements. "iGlobal, LLC stands ready with easily adjustable software should the ELD mandate rules change," said Eric Bauer, iGlobal LLC president. "There is one thing we can all count on is change."
iGlobal, LLC specializes in providing technology solutions for the transportation, distribution and logistics industries. We develop software and build hardware that answers complex business, critical problems and brings immediate ROI to our customers.
Contact iGlobal, LLC, or call 877-822-8855.
---