Two Governors Suspend Hours-Of-Service Rules
Federal hours-of-service rules have been put on hold this month in two states to accommodate shipment of emergency supplies following flooding caused by Hurricane Joaquin.
Governors in North Carolina and South Carolina suspended the rules that also regulate trucks' sizes and weight limits.
South Carolina's suspension applies to drivers carrying "equipment, materials, services, supplies, food, fuel timber, debris and other items in response to flood," according to Commercial Carrier Journal. South Carolina Gov. Nikki Haley issued the order Oct. 2.
Gov. Pat McCrory signed North Carolina's order Oct. 1, which waives federal requirements for truck drivers carrying "essential fuels, food, water, medical supplies, debris removal, feed for livestock and poultry, transporting livestock and poultry and for vehicles used in the restoration of utility services."
South Carolina still prohibits trucks from exceeding limits of 12 feet in width, 13.5 feet in height and 90,000 pounds in weight. Drivers are required to comply with bridge signs and obtain state permits for certain loads, the Commercial Carrier Journal report stated. North Carolina continues to restrict truck limits to 90,000 pounds in weight, 12 feet in width and overall 75 feet in length.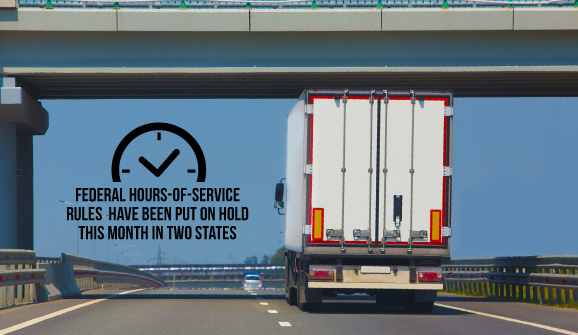 iGlobal, LLC monitors trends and news in the trucking industry to help fleet managers make wise investment decisions. iGlobal, LLC's electronic logging devices (ELDs) track drivers' performance, status, critical events and hours of service. Drivers don't have to monitor their hours manually; the electronic logs visually countdown weekly hours remaining, daily on-duty totals, daily driving time, 30-minute break status, 34-hour restart and off duty times. This enables drivers to focus on the task of transporting their cargo rather than performing paperwork, iGlobal, LLC president Eric Bauer said.
Some driver oversight violations that would be eliminated by iGlobal LLC's ELDs include:
Failure to take a break.
Failure to take a long enough break.
Exceeding daily driving hours.
Exceeding daily duty hours.
iGlobal, LLC builds hardware and develops software that resolve critical business dilemmas, especially those involving fleet management and communication technologies.
Contact iGlobal, LLC, or call 877-822-8855.
---