Who Must Comply With Federal ELD Mandate?
Change is coming to the commercial trucking industry. Top executives and fleet managers have seen the writing on the wall for some time.
The federal government instituted new regulations that it hopes will produce safer roads, more equitable working conditions for truck drivers and streamline record keeping.
However, industry leaders are finding aspects of the federal mandate requiring electronic logging devices (ELDs) in commercial trucks by December 2017 an increasingly complicated, bureaucratic tangle of rules, restrictions and road time limits. Late last year Congress passed and the President approved the mandate which was entered into the Federal Registry on Dec. 10, 2015.
We at iGlobal LLC are publishing a series of articles, exploring the scope of the federal ELD mandate and its range of requirements.
Industry expert Annette Sandberg discussed the mandate at length during a conference with FleetOwner, an online information source for fleet leaders. Sandberg served as administrator of the Federal Motor Carrier Safety Administration, and deputy administrator of the National Highway Traffic Safety Administration, United States Department of Transportation.
Who Has to Comply With the New Mandate?
In this fourth installment in this ongoing series, Sandberg answers the question: "Who must comply with the new rule?"
"All interstate truck drivers who currently are required to fill out records of duty status or log books are required to have an ELD," she said. "However, there are a few categories of drivers that are not required to have these devices."
Drivers who are exempt from the mandate include:
Drivers who use paper records of duty (ROD) status or log books for not more than eight days during any 30-day period. (This group consists of short-haul drivers that use timecards instead of logbooks. However, if a short-haul driver uses a paper ROD more than 8 days in any 30-day rolling period, that driver must have an ELD installed in their truck).
Drivers who do driveaways or towaways, where the vehicle being driven is the commodity being delivered.
Drivers of vehicles manufactured before model year 2000.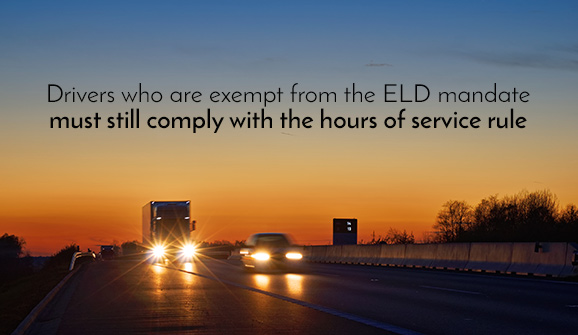 "Even though drivers mentioned here do not have to have an ELD, they must still comply with the HOS (hours of service) rules and keep required documents as detailed in the current rules. Additionally, motor carriers that employ ELD-exempt drivers must still have a system in place to ensure their drivers fully comply with HOS rules," Sandberg said.
Some states automatically employ federal transportation rules for in-state truck driving. "If you live in a state that automatically adopts the federal rules, it is likely the federal ELD requirement will also apply to all your intrastate operations," Sandberg said.
"Carriers that switch between intra- and interstate operations must do as before and comply with the federal regulations in the previous seven days prior to making an interstate trip. If you are a carrier that frequently switches between intra- and interstate operations, it may make more sense to install an ELD and comply with federal HOS regulations."
Sandberg said fleet managers should obtain information from their state's trucking association or state police to ensure their state is adopting the federal requirements and when.
iGlobal LLC is a fast-paced technology company that specializes in providing technology solutions for the transportation, logistics, and distribution industries. We build hardware and develop software that answers complex business critical problems, and bring immediate ROI to our customers.
---