How Can You Save Money with Lower CSA Scores?
Often the smallest change to a large machine can reap huge results – sometimes good, sometimes bad. Add the wrong fluid in an engine reservoir and costly malfunctions may be imminent. It works the same way on the business end of the trucking industry – one small, positive investment in sound fleet technology can reap big profits in the long run.
On the other side of the equation, ignoring simple fixes in fleet operations can put a slow but significant financial drain on a trucking company's ability to function profitably and successfully.
We at iGlobal LLC monitor industry news and trends to find solutions for critical business dilemmas. The federal government uses its Compliance, Safety, Accountability (CSA) program to assign scores to fleets based on road violations.
iGlobal LLC president Eric Bauer explained the importance of keeping fleet CSA scores low by implementing in-cab technologies to maintain smooth fleet function, and added that the potential of the federal government revoking a fleet's driving authority for violations is significant. "The more violations you have the more citations you have." Lower CSA Scores!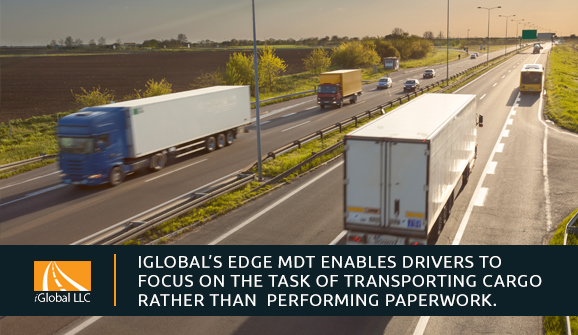 High CSA Scores put the Brakes on Fleet Function
As violations mount, finding simple solutions – such as paying the fine while ignoring the larger problem – becomes increasingly difficult and may pose long-term threats to a fleet's ability to continue doing business, Bauer said.
Violations include:
Failure to do pre- and post-trip inspections.
Failure to enter daily trailer number changes.
Failure to certify logs.
"There are simple things that can be done," Bauer said."Electronic Driving Logs really solve Form and Manner violations."
iGlobal LLC's EDGE MDTs track drivers' performance, status, critical events and hours of service. Drivers no longer have to concern themselves with manually monitoring their hours; the electronic logs visually countdown weekly hours remaining, daily on-duty totals, daily driving time, 30-minute break status, 34-hour restart and off duty times. This enables drivers to focus on the task of transporting their cargo rather than performing paperwork, Bauer said.
Some driver oversight violations that would be eliminated by iGlobal LLC's EDTs include:
Failure to take a break.
Failure to take a long enough break.
Exceeding daily driving hours.
Exceeding daily duty hours.
Low CSA scores – fewer violations – provide fleets with significant over-the-road benefits that add to the bottom line. "If you have a poor CSA score (a higher number with more violations) you can't pass through a weigh station," Bauer said. Weight station inspections, which encompass a range of factors, can take 20-60 minutes depending on the truck and the cargo.
Full roadside inspections can take an hour, according to thetruckersreport.com. Having in-cab electronic driving logs installed often saves nearly 20 minutes per stop.
iGlobal LLC builds hardware and develops software that resolves critical business dilemmas, especially those involving fleet management and communication technologies.
Go to our Products tab or call today for a demonstration! We will continue exploring issues and events that shape the industry. Connect us on our social media channels.
---