Fleet Tracking: Do You Know Where Your Trailer Is?
The National Highway System oversees more than 160,000 miles. That's equal to circling the globe nearly seven times. All total – including local and state – the United States has nearly 4 million miles of roads; that comes to 160 trips around the earth's equator.
To break down the math even further, it would take one truck driver, traveling only 40 hours a week at an average speed of 57.6 mph, 35 years to traverse all of the roads in the United States.
While we at iGlobal LLC aren't trying to boggle minds with mathematics, the numbers point to a very powerful aspect of the trucking industry – that's time, and how fleet managers use it to their advantage. In an industry that is undergoing radical change due largely to federal regulatory changes and rapid technological advancements, fleets need the tools to maintain their edge just to survive.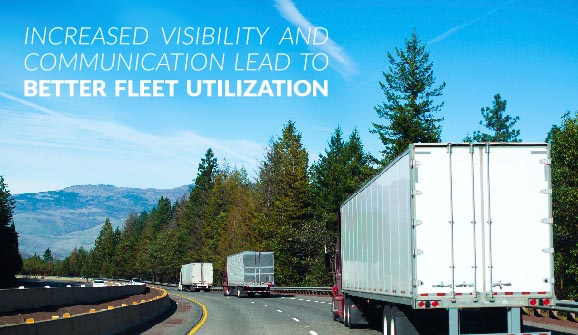 Do You Know Where Your Trucks Are?
Presenting these numbers inevitably raises some very important questions fleet management should ask: Where exactly are your trucks and trailers? How are they being used? Is there a better way to manage your fleet?
In 2007, Kraft Foods' executives were asking the same questions, especially as they grappled with perplexing trailer detention issues. "As a private fleet, we thought we knew pretty well where our equipment was and how many trailers that we needed to serve our business," Scott Willert told HDT Truckinginfo. Willert is senior manager for private and dedicated fleets at Kraft.
Kraft Foods installed tracking equipment in their trailers and in less than a year reduced its trailer pool by 25 percent, HDT Truckinginfo reported. "The increased visibility and communication opened people's eyes and helped change behaviors almost immediately. At the same time, we've been able to serve more of our companies' loads because we know more about the availability of our assets," Willert said.
Similar stories abound in the industry of fleet managers incorporating tracking devices into their trucks and trailers and experiencing remarkable success. The technological advances in tracking devices have also made the investment simple, efficient and profitable.
Technology Advances Pick Up Speed
"In the early days, tracking solutions were cumbersome and typically required customized mounting and cabling to an external battery," said Brad Aitken, TransCore's business development director of satellite communications. "Capital costs have decreased significantly over the past five years, and battery life has doubled, offering a quicker return on investment."
We at iGlobal LLC are at the forefront of this technological wave. We present three products that will enable fleet managers to better monitor and map their trucking operations to maximize profits and productivity.
That's what this business is about: Finding ways to improve and to streamline for sleeker, more muscular fleets.
The iVision X.1, a tethered tracking device with a 6-month rechargeable battery, is designed for reliable long-term deployments. The rechargeable lithium ion battery pack makes it easy for managing assets that are tethered to a 12- or 24-volt system but may sit disconnected for months at a time. The X.1 can be used with any vehicle, machinery, trailer or device that has a 12 or 24 volt power source.
The iVision X.2 is un-tethered, AA battery-powered and sends twice daily GPS location signals.
The iVision X.5 is also un-tethered and powered by a lithium ion long-life battery (lasting at least five years), which never needs recharging.
iGlobal LLC builds hardware and develops software that resolves critical business dilemmas, especially those involving fleet tracking, fleet management and communication technologies.
Go to our Products tab or call today for a demonstration! Connect us on our social media channels.
---