Why is FMCSA Requiring Electronic Logging Devices (ELDs)?
Car and truck motorists share more than 4 million miles of U.S. roads. While not a significant increase from 1960's 3.5 million, more than a quarter billion cars and trucks regularly travel those roads, which is 3.3 times as many as a half century ago, according to the federal Bureau of Transportation Statistics.
While levels of public anxiety involving safety have grown, the car-to-truck ratio has remained relatively steady (at about 15 to 1). The United States has more than 15 million trucks – 2 million of those are tractor trailers, according to TruckingInfo.
In efforts to make roads safer and to ease truck drivers' workload, the Federal Motor Carrier Safety Administration, at the urging of Congress, decided to push for implementation of new regulations and rules governing when drivers work and how they log their schedules and time on the road.
FMCSA Mandate Underwent Years of Review
After years of review and modification, the new federal mandate requiring the use of electronic logging devices (ELD) in commercial trucks became law in December 2015. Fleets have until December 2017 to comply with the rule.
iGlobal, LLC is publishing a series of articles addressing various aspects of the ELD mandate. This is the third dealing with the FMCSA's reasoning and the timeline for implementation.
Industry expert Annette Sandberg provided a summary analysis of the main issues involving the mandate during a conference with FleetOwner, an online information source for fleet leaders.
Sandberg is CEO of TransSafe Consulting, LLC and Of Counsel for Scopelitis, Garvin, Light, Hanson & Feary, a Spokane, Washington-based law firm.
Sandberg has served as administrator and deputy administrator of the Federal Motor Carrier Safety Administration, and deputy administrator of the National Highway Traffic Safety Administration, United States Department of Transportation.
Why is the FMCSA requiring ELDs?
FMCSA States ELD Mandate Will Help Prevent Traffic Crashes, Injuries
"The FMCSA estimates the rule will help avoid 1,844 crashes, 562 injuries and save 26 lives annually. This data is based on improved compliance with Hours of Service (HOS) regulations," Sandberg said.
The rule went live officially on Feb. 16. The rule's compliance date is Dec. 18, 2017. Drivers and fleets with Automatic On-Board Recording Devices (AOBRD) are not required to replace the units until Dec. 16, 2019, according to the rule.
"Any current AOBRD provider can continue to offer and install older AOBRD technology until Dec. 18, 2017. However, after that date, only ELDs may be installed," Sandberg said.
Sandberg warned that fleet operators should take precaution when installing devices. "Motor carriers should communicate with their electronic log providers to ensure hardware they are installing will comply with this new rule. If, for some reason the older AOBRD equipment does not comply, it all must be replaced by Dec. 16, 2019 with new ELD equipment."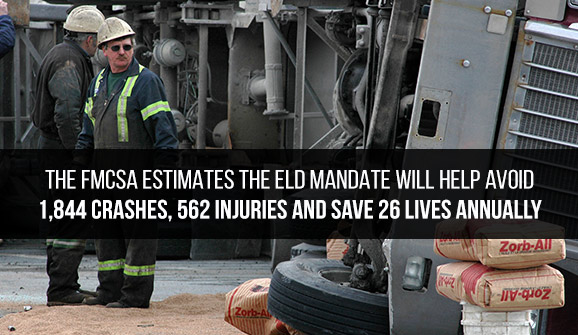 iGlobal LLC president Eric Bauer pledged his company would take the confusion and the anxiety out of the process while providing fleets with the highest-grade and easiest to use technology. Although the mandates' bureaucratic legalities seem unclear and in flux, he vowed that iGlobal LLC would meet and exceed the demands of the trucking industry in the wake of these developments.
"If there's anything that's constant, it's change," he said. "There's constant change, and we're up to it. Give us five minutes."
Next week's question is: Who must comply with the new rule?
iGlobal LLC is a fast-paced technology company that specializes in providing technology solutions for the transportation, logistics and distribution industries. We build hardware and develop software that answers complex business critical problems, and bring immediate ROI to our customers.
---