Governors Have Suspended Hours-of-Service Rules
Following record winter storms along the Eastern seaboard and in the South, several governors have temporarily suspended hours-of-services rules to provide relief for trucking fleets.
In declaring states of emergencies, governors in hard-hit states of Kentucky, North Carolina, South Carolina, Tennessee and Virginia are providing waivers on the federal requirements as storm conditions rattled nearly a third of the U.S. population.
Here is a breakdown of state actions, according to Commercial Carrier Journal:
Kentucky is expected to lift its hours exemption Jan. 31.
North Carolina's exemption applies to drivers hauling "essential fuels, food, water, medical supplies, debris removal, feed for livestock and poultry, and livestock" The governor has waived limits on size and weights for trucks hauling equipment or supplies to restore power and to remove debris. The exemption is expected to last until Feb. 20 or through "the duration of the emergency, whichever is less."
South Carolina's law requires the state to follow North Carolina in this emergency declaration, according to CCJ. The state's exemption includes trucks carrying "fuel, food, water or other goods to" North Carolina. It is expected to remain in effect until Jan. 28.
Tennessee's exemption applies to food haulers in the state. It was lifted Jan. 27.
Virginia is waiving size and weight limits for load haulers. Its waiver applies to drivers hauling "emergency relief supplies, passengers, property, livestock, poultry, equipment, food, feed for livestock or poultry, fuel, construction materials and other critical supplies to or from any portion (of Virginia) for purpose of providing direct relief or assistance as a result of this disaster." The exemption is expected to be lifted March 1.
West Virginia has instituted a limited waiver for truckers carrying propane and only temporarily lifts the 60/70-hour limit when all drivers for their fleet have reached the hour limit, according to the CCJ.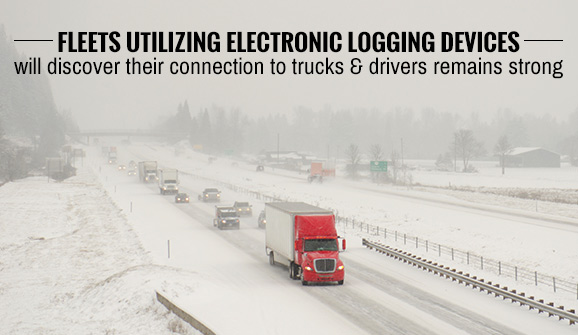 iGlobal LLC President Eric Bauer said fleets utilizing newly mandated electronic logging devices will discover their connection to trucks and drivers remains strong. He said storms and weather conditions may delay or redirect the movement of trucks, but ELD-equipped trucks can still communicate with main offices and dispatch centers.
"If they're delayed, you're still going to get your documents," Bauer said. "If trucks can't move, drivers can still log edits in their eLogs. With our in-cab scanning, you're still in business. Your billing is not delayed. You're still operating."
Bauer urges fleet leaders to explore the technological opportunities available at iGlobal LLC that will enable trucking companies to take their businesses to the fast lane – despite tough weather conditions. "Why not partner with us? We're here to help. Contact us today for a demonstration."
iGlobal LLC is a fast-paced technology company that specializes in providing technology solutions for the transportation, logistics, and distribution industries. We build hardware and develop software that answers complex business critical problems, and bring immediate ROI to our customers.
---