GPS Asset-Tracking Devices Protect Classic Cars
"Cool" is a word rarely used to describe iGlobal LLC's iVision X.5, an inexpensive, easy-to-use, GPS asset-tracking device with a durable, lithium-ion battery that lasts for years. However, "cool" would easily fit the 1966 Shelby 427 Cobra. The price tag on the 1966 Shelby 427 Cobra Super Snake: $5.5 million.
That's a lot of moolah for a whole lot of "cool." So, you're probably wondering why we at iGlobal, LLC would put the two in the same sentence: the iVision X.5 (nobody will ever know it's there) and the Cobra Super Snake (everybody will know it's there). Here's why: The iVision X.5 has a really cool ability to protect classic cars.
We're not suggesting the Cobra is an antique car. Please excuse us if we gave that impression. Anymore than the 1961 Jaguar E-Type is just another sports car, which many a classic car aficionado (specifically, Enzo Ferrari) has aptly said is "the most beautiful car ever made."
Shall we even discuss the 1969 Maserati Ghibli 4.7, the 1964 Aston Martin DB5 or the 1957 Mercedes 300SL Gullwing, some of the coolest cars on planet earth, according to Cool Material, a website that talks about "Stuff Guys Want"?
Bad Guys Want To Steal Cool Stuff: Protect Yourself
Cool cars are also stuff bad guys want as well. And that's where the iVision X.5 enters the picture. These GPS vehicle tracking device marvels can be installed easily, quickly and inexpensively anywhere on your most prized – and your most cool – possession.
You may have spent years restoring that 1969 Boss 429 Mustang. You may be paying big money to keep it insured from theft or damage. But for those who don't have the passion for classic cars – or cars in general – owning and restoring one of these beauties is more about relationship than mere chrome, polish and growl. While your 47-year-old machine may bear the name "Boss," it's still your baby. And you want it back. In fact, you'd like the thief tarred and feathered for even touching your machine (for starters).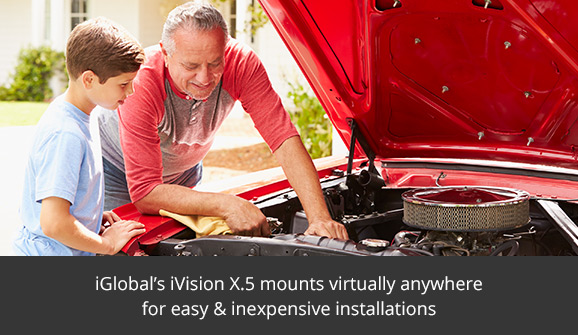 Here are some specifications on our mean technology machines, the iVision X.5:
5-year battery life on a single charge and one location per day
Sealed and rugged enclosure
Weather, temperature, humidity, shock and vibration proof
Small size: 2.25 inches by 10.25 inches by 1.4 inch.
Lightweight: 32 oz.
Superior internal antennas for both cellular and GPS
Mounts virtually anywhere for easy, inexpensive installations
Over-the-air serviceability with anti-jamming technology
Web portal viewing from the Internet
12-month manufacturer's defect warranty
Are you wondering how vehicle asset tracking can help you protect classic cars and more? We'd love to discuss how iGlobal LLC's "Tough Tech for Tough Trucks" can make a difference in your fleet management!
iGlobal, LLC specializes in providing technology solutions for the transportation, logistics and distribution industries. We build hardware and develop software that answers complex business, critical problems and bring immediate ROI to our customers.
Contact iGlobal, LLC, or call 877-822-8855.
---