GPS Trailer Tracking Devices: Cutting-Edge Solution for Fleets
Transportation fleet managers looking for a tracking solution to manage assets deployed for long periods of time without maintenance needs should consider iVision X.5 battery-powered GPS trailer-tracking devices. The iVision X.5 is a light and unobtrusive tracking device that mounts anywhere for easy and inexpensive installations. The iVision X.5 provides fleet leaders with a full view into how their entire operation is functioning, eliminating surprises about abandoned or forgotten trailer. Your trailers, vehicles and expensive equipment won't go far without you knowing when you are using the iGlobal iVision X.5.
Thieves are finding the trucking industry rife with easy opportunities to make big money. As fleet leaders scramble to keep pace with a criminal enterprise that operates across a 4-billion-square-mile landscape of nearly 4 million miles of roads, the illegal acquisition of cargo, trailer and equipment expand at epidemic proportions.
Insurance officials estimate cargo theft and misplaced equipment are costing the trucking industry more than $30 billion a year, and that number is expected to continue to rise by more than 13 percent annually. In short, the industry is easy pickings. What's the solution? Experts point to trailer tracking devices, which are relatively inexpensive investments that enable fleet managers to monitor the location of their capital with real-time precision.
Trailer tracking devices are increasingly becoming a hot topic and may serve as the technological panacea to an ailment long-in-the-making. While the cost in lost resources and mismanaged capital assets easily rises into the 11-digit dollar range, the actual number is considerably higher when inefficient business models are factored into the equation.
Tracking Technology Enables Fleets to Focus on Growth
Rather than focusing on effective management and achieving robust business growth, many fleet managers are forced into adopting a retroactive approach to managing their enterprises hoping to recoup ongoing losses from misplaced or misdirected resources. In other words, the industry has sprung a leak and fleet leaders are spending their valuable time bailing out the water rather than repairing the leaks.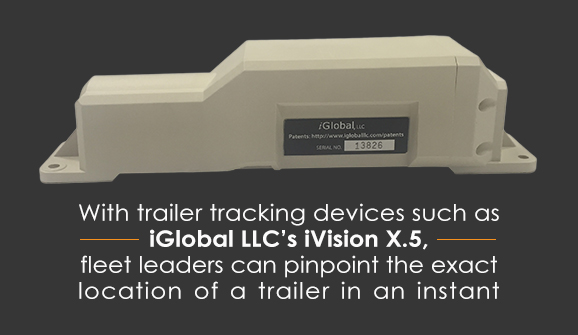 Many fleet operators make the mistake of trusting paper logs or relying on archaic computer networks to assuage concerns of angry customers inquiring about the location of their shipments. Fleets are often left with the only available response of either guessing, providing a rough estimate or telling clients they'll get back with them later with more precise answers.
With trailer tracking devices such as iGlobal's easy-to-use and easy-to-install iVision X.5, fleet, leaders can pinpoint the exact location of a trailer in an instant and know in advance – before a customer calls – exactly where their trucks and equipment are at any time.
The iVision X.5 provides a layer of security unprecedented in the industry. Conventional and time-consuming approaches of overseeing logistics quickly become obsolete. The old questions are no longer even asked; with the iVision X.5 attached to any piece of equipment or cargo, fleet leaders don't need to spend time and money asking where a trailer last stopped, where it is currently located and how is it being used. The iVision X.5 untethered GPS asset-tracking device has the answer.
At iGlobal, LLC, our goal is to help you easily keep track of your trailers, truck or cargo. Contact iGlobal, LLC, or call: 877-822-8855.
---