Highway Funding Bill Clears Senate, House
The5-year, $305 billion transportation funding bill that cleared Congress this week heads to President Obama's desk for final approval.
Senators passed the1,300-page Fixing America's Surface Transportation (FAST) Act by an 83-16 vote; the House passed it by a 350-65 vote.
The bill removes carrier rankings from public view in the Compliance, Safety and Accountability program and expands options for driver drug testing. It provides funding for roads and rail projects, renews the Export-Import Bank and restores a crop-insurance subsidy, according to The Wall Street Journal.
Government leaders view the bill as providing states with the assurance that transportation money for major local road projections will be available to allow for project planning, according to USA Today.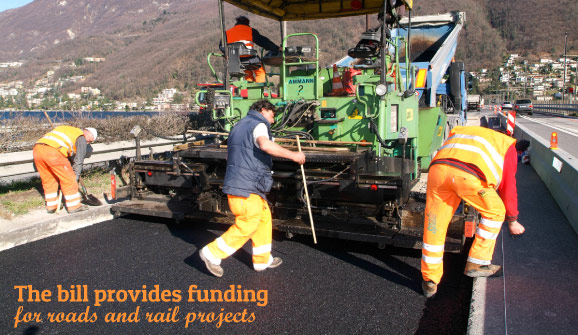 Sen. James Inhofe, R-Okla., Chairman of the Environment and Public Works Committee, and Sen. Barbara Boxer, D-Calif., applauded the bill's passage in a joint statement.
"We couldn't be more proud of the overwhelming vote today, because this legislation is essential for jobs, for our safety by rebuilding our roads and bridges, and for our economic standing in the world.  We applaud our many colleagues who worked tirelessly alongside our committee through long hours and many negotiations to make this accomplishment happen. The FAST Act has enormous support throughout the country from businesses and workers alike, and we are so pleased that it is now going to the President to be signed into law."
White Press Secretary Josh Earnest said earlier this week Obama expects to sign the bill when it reaches his desk.
Congressional leaders also praised the bill's passage, saying it will put an end to a cycle of temporary fixes of the past eight years. It "proves to the American people that we can get big things done," said Rep. Bill Shuster, chairman of the House Transportation and Infrastructure Committee. The committee's senior Democrat, Rep. Peter DeFazio of Oregon, called it "historic," but added that "it is a starting point, not the end."
Industry leaders also gave Congress high marks to the bill's passage.
"We greatly appreciate the efforts of lawmakers to recognize the value of owner-operators, small businesses and professional truckers and what they mean to the economy and to highway safety," said Todd Spencer, executive vice president of Owner-Operator Independent Drivers Association, according to Overline, an online trucking magazine.
The "announcement that House and Senate leaders had reached an agreement on a long-term highway bill is welcome news to those of us in the transportation world," said American Trucking Associations President Bill Graves.
"After so many near misses and close calls, so many cans kicked down the road and so many cliffs narrowly averted, we finally have long-term, fully funded highway legislation," Associated Equipment Distributors President Brian McGuire said in a statement, according to The Hill, a political newspaper based in Washington, D.C.
iGlobal LLC monitors news and trends concerning the trucking and transportation industries to help fleets keep pace with regulatory and policy developments.
iGlobal LLC builds hardware and develops software that resolve critical business dilemmas, especially those involving fleet management and communication technologies.
---