How Can You Help Drivers Comply With Safety Laws?
The trucking industry serves as the lifeblood of the nation's commercial health, but when the flow of goods and equipment is hindered by increased regulatory oversight, more vigilant law enforcement and government mandates to employ new technologies in fleet operations, the entire economy can suffer.
With institution of the federal mandate requiring the use of electronic logging devices (ELD) in the industry's rear view mirror, law enforcement appears to be laying a heavier hand on fleets to ensure drivers comply with safety law, according to one analysis.
The results of nearly 20,000 roadside inspections conducted by police last October showed a slight drop (4,000) from the previous year, but underscore the scrutiny managers undergo to keep their fleets compliant, according to Commercial Vehicle Alliance.
The blitz was part of the alliance's 2015 Operation Safe Driver Week. The top five infractions against commercial truck drivers included citations and warnings for size and weight, excessive speed, failure to wear seatbelts, failure to obey traffic control devices and using handheld cell phones, according to the CVA. The results of the safety blitz were released earlier this month.
"Unsafe driving behaviors can result in lives lost. That's what Operation Safe Driver Week aims to combat through driver enforcement and education," said CVSA President Maj. Jay Thompson with Arkansas Highway Police. "Our mission is to make our roadways as safe as possible. We will continue to work toward that goal by ensuring drivers are operating safely in and around large trucks and buses."
Pointing to the nearly 70 percent of drivers who received either warnings or citations in the report, Eric Bauer, president of iGlobal LLC, said the numbers reveal a more crucial matter for fleet survival and the industry's ability to thrive financially.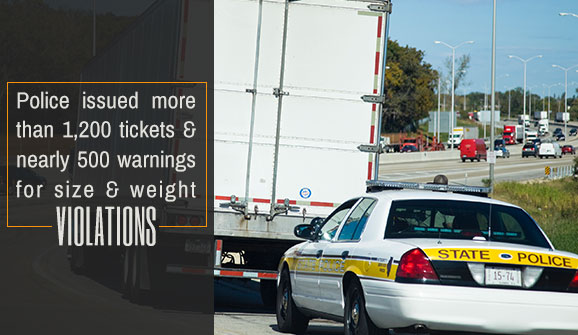 "This shows how tough law enforcement has come with trucks," he said. "If this is the number pulled over, why not have an ELD device?"
The report shows nearly 14,000 trucks underwent inspections during the safety week. Police issued more than 1,200 tickets and nearly 500 warnings for size and weight violations; more than 400 tickets and nearly 900 warnings for speeding; nearly 600 seatbelt tickets and more than 110 warnings. More than 4,000 tickets and nearly 4,000 warnings were issued to truck drivers.
"It's a new year. The (ELD) mandate has been announced," Bauer said. "Law enforcement is going to be tougher."
The report also showed increases in citations and warnings issued from the previous year in nearly every category: 5.8 percent in 2014 to 9.3 percent in 2015 for speeding violations; 2.5 percent in 2014 to 3.9 percent in 2015 for failing to obey traffic control devices; 2.8 percent in 2014 to 5 percent in 2015 for seatbelts.
"Everyone traveling on our highways and roads should reach their destination safely," said FMCSA Acting Administrator Scott Darling. "I thank CVSA and its members for their partnership and commitment to safety. By working together through efforts like Operation Safe Driver, crashes will be prevented and lives will be saved."
Bauer said fleet managers can prevent the bulk of these violations and vastly streamline their operations by utilizing technology to monitor and direct their resources in more efficient and safe manner.
"It's getting harder and harder out there. How do you do it alone?" he said. "Why not partner with us? We're here to help. Contact us today for a demonstration."
iGlobal LLC is a fast-paced technology company that specializes in providing technology solutions for the transportation, logistics, and distribution industries. We build hardware and develop software that answers complex business critical problems, and bring immediate ROI to our customers.
---