iGlobal LLC Heads to McLeod Software 2015 Users'  Conference
In ongoing efforts by iGlobal LLC to provide the greatest and most innovative technology solutions for the trucking industry, representatives are heading to McLeod Software 2015 Users' Conference in Birmingham, Alabama.
The 3-day conference begins Oct. 4 and is being held at the Birmingham Convention Center Hotel in the Exhibition Hall.
The conference is offering several sessions that will provide the most current and most comprehensive information and training to equip fleet leaders with the technological tools to put their businesses on the fast track.
Sessions include: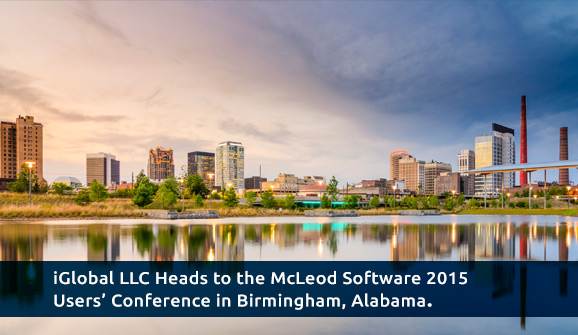 iGlobal LLC, McLeod Software Integrate Systems
In February, iGlobal LLC and McLeod Software integrated iGlobal's suite of Mobile Data Terminals and McLeod's LoadMaster Enterprise Dispatch Software via its Symphony Mobile Communications Interface.
iGlobal LLC provides world-class fleet management and in-cab document imaging solutions. McLeod Software is a leading provider of transportation, accounting, brokerage and document management solutions.
"We are extremely excited to have a partner like McLeod," iGlobal LLC president Eric Bauer said in February. "With this integration, we give our mutual customers a complete mobile office."
McLeod customers who are using the iGlobal LLC fleet management system get automated position updates, two-way text messaging with canned and customizable forms, real-time electronic driver log status, along with auto arrival and departure updates.
McLeod's Document Power Enterprise customers also have instantaneous access to critical billing and payroll documents scanned through iGlobal LLC's signature In-Cab Scanning system. This integration is already creating waves in the transportation industry with clients like Paramount Freight Systems.
Visit iGlobal LLC at booth 217 to learn more. We are a technology company specializing in providing solutions for the transportation, logistics and distribution industries. We build hardware and develop software that resolves complex and critical business dilemmas, including those associated with fleet management and communication technologies.
For more information, contact us our toll-free line: 877-822-8855.
---