iGlobal LLC Leaders Heading to World's Largest Trucking Tradeshow
Representatives from iGlobal LLC are heading to one of the largest trucking shows in the nation this week. The Mid-America Trucking Show is scheduled for March 26-28 in Louisville, Kentucky.
A technology company, iGlobal LLC specializes in providing solutions for transportation, logistics and distribution companies by building hardware and developing software that solves critical business dilemmas involving fleet management and communication technologies.
The tradeshow is billed as the preeminent annual event for the heavy-duty trucking industry. For more than 40 years the event has provided companies the opportunity to present their products and services in a personal environment. The event allows industry professionals to examine and research the latest in companies' products and services at exhibits and demonstrations.
Company and industry leaders are able to interact and network with each other to exchange information about the most cutting-edge equipment and developments, new regulations or governmental requirements and technological upgrades.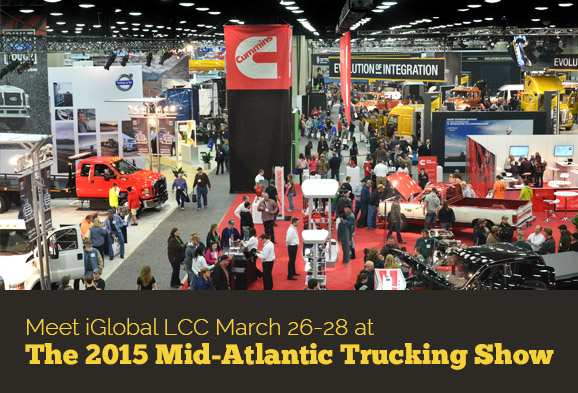 The tradeshow is the world's largest in the heavy-duty trucking industry.
Events include:
The 26th annual PKY Truck Beauty Championship starts the season with the largest show truck grouping in the country, according to the event's website. The event is a beauty pageant for trucks and celebrates North America's heavy-duty working show trucks.
Officials from trucking's two major publications, Fleet Owner and Heavy Duty Trucking, will host the tradeshow's Fleet Forum which will give fleet executives and industry leaders an in-depth look into the future developments in equipment and transportation.
Numerous seminars held in the South Wing Conference Center's Room B-104 will provide those who attend the tradeshow with information on various trucking-related topics. Seminars are free and require no advanced registration.
Organizers will host a concert March 27 in the evening. Tickets are available from sponsoring exhibitors and are available on March 26. Organizers have not released the headliner's name yet.
Representatives from iGlobal will be demonstrating the Edge and EDGE MDT during the trade show. These two products have the capability of saving truck companies both time and money by vastly streamlining the processing of paperwork and record handling.
R+L Carriers, one of the nation's largest Less Than Truckload (LTL) fleets,  has employed state-of-the-art technologies from iGlobal LLC in the form of onboard computing and in-cab scanning solutions (EDGE MDT) in its 5,500-truck fleet. Complete implementation is expected by this summer. LTL refers to trucks carrying relatively smaller freight that do not require full 48- or 53-foot trailers.
---