Trucking Audio Messaging Feature Debut
Are you finding it increasingly difficult to communicate effectively with your fleet? Are your driver communication tools no longer compliant with new laws published by the FMCSA and PHMSA?
In the trucking industry, making sure messages are sent and received is important for drivers and dispatchers working as a team. But is it becoming more difficult to communicate with your fleet, especially with laws banning commercial truck drivers from texting while driving and prohibiting reaching for or holding a mobile phone to conduct a voice communication, as well as dialing by pressing more than a single button.
The rules present an increasing burden for U.S. fleets, many of which have switched to cell phone options. Fleets that initially relied on the former Nextel push-to-talk devices saw the technology lag and the devices later replaced with smartphones that are no longer compliant with the law.
We recently introduced audio messaging, an enhancement to the messaging feature for the Edge and Edge Lite MDT (mobile data terminal). It's a solution to keep the lines of communication open. Audio messages play automatically in the cab of the truck for the driver to hear hands-free.  A CB microphone attached to the MDT allows the driver to push-to-talk a reply. If the driver is out of the truck, the message can be played back later with a quick touch to the MDT screen and responded to if needed. If a message has not been responded to in a timely manner, the dispatcher has the option to send a call-back message that will remain active until the driver acknowleges it.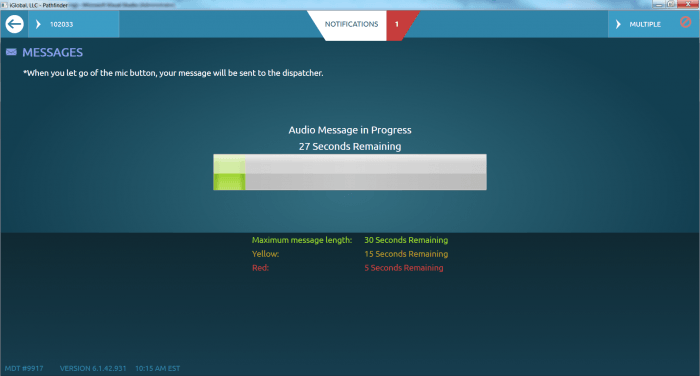 In the reverse, it's an effortless push of the CB microphone for the driver to send an audio message to the dispatcher. The dispatcher can select to listen to any message from a driver they have permission for via their computer screen.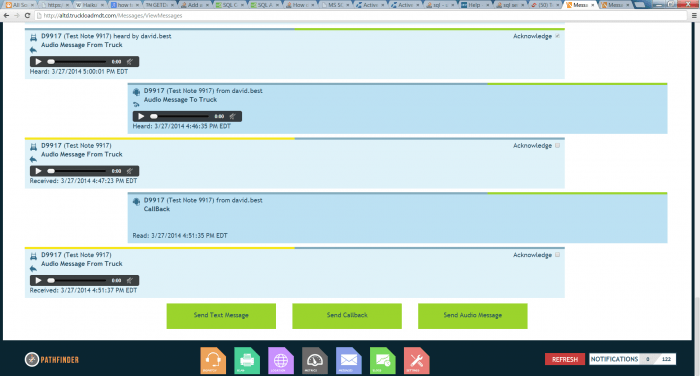 The new feature is a cheaper communication tool, keeps a log of messages, and provides an automatic and efficient way to relay messages all either hands free or push-to-talk. If you are currently using the existing Edge products, adding this new feature is seemless and cost effective. If you haven't been introduced to the Edge products, let us show you how they can save you time and money.
We debuted the audio messaging feature for the Edge and Edge Lite at the Mid-America Trucking Show in Louisville this week. Stop by Booth No. 70185 in the Pavilion to talk to us and learn more about audio messaging with the Edge and Edge Lite. We'll even give you a live demonstration! This is just another way we are helping your truck or fleet stay ahead of the competition.
---