Senate Decision Helps Trucking Industry with New Regulations
The trucking industry can cruise a little easier following last week's decision by the Senate Appropriations Committee to roll back House GOP-backed cuts to transportation projects, blocking at least temporarily 34-hour restart provisions.
Critics complained the rule changes, which restrict nighttime commercial truck driving, increase traffic crashes and put the regulatory brakes on truck companies' ability to maintain profitability.
"Small-business truckers know from personal experience that current restart restrictions compromise safety by forcing them onto the roads during the most congested and dangerous hours of morning traffic," said Todd Spencer, vice president of the Owner-Operator Independent Drivers Association, in a press release.
The American Transportation Research Institution (ATRI) published an analysis that showed a significant increase in truck crashes immediately following the July 1, 2013 rule change.
The analysis focused on truck GPS data and identified a shift in truck traffic from nighttime to daytime and weekends to weekdays, according to the ATRI report. The largest increases occurred on Sunday nights.
We at iGlobal LLC closely monitor new developments in the trucking industry and changes in how trucking operations are regulated.
House GOP Targets Bill for Cuts
The transportation and housing bill was targeted by House Republicans for $1.8 billion in cuts relative to current program levels, the Associated Press reported. The Senate measure is about $2.4 billion above the House measure and more than $600 million above current spending.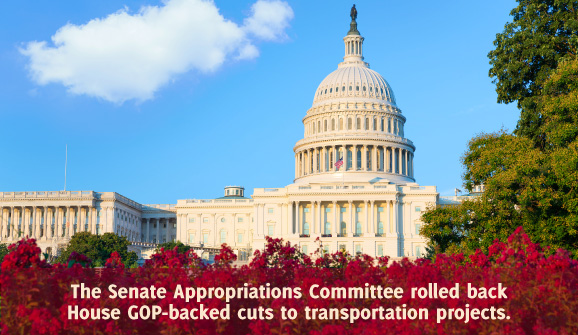 The additional money — made available through bookkeeping maneuvers by Senate panel chair Barbara Mikulski, D-Md. — maintains funding for a $550 million transportation grant program that dates to President Barack Obama's 2009 stimulus bill, additional funding for rent vouchers for the poor, and allows for new resources to address the risks of shipping crude oil by rail.
The American Trucking Associations applauded the Senate Committee's move, calling it an important step to improving highway safety and providing environmental benefits by reducing truck traffic and easing traffic congestion during busy times, according to association leaders.
"We want to thank the members of the Appropriations Committee for moving forward a 2016 spending bill that advances the cause of safety and protects the environment," said ATA President and CEO Bill Graves. "In particular, I want to recognize Senators (Susan) Collins (R-Maine) and (Richard) Shelby (R-Alabama) for their work to move us forward as an industry and a country."
The bill includes continued suspension and robust study of the Federal Motor Carrier Safety Administration's hours-of-service restart restrictions and modest increases in tandem trailer length, both of which will improve safety by reducing truck traffic and keeping trucks off the road during peak travel times, according to the ATA.
Collins introduced the amendment to suspend the restrictions, which was approved by a bipartisan 21-9 vote. The amendment blocks a rule requiring drivers who take a 34-hour break before starting a new 60-hour workweek to include the hours between 1 a.m. and 5 a.m. on two consecutive nights, according to AP.
"It's much safer to have these trucks on the road during nighttime hours," Collins said.
Collins said she had rejected requests to lead a more sweeping attack on the hours of service rules, which include a mandatory 30-minute break during a 14-hour on-duty period, 11-hour drive-time limits and 10 hours of rest between shifts, according to AP. The rules took effect last July.
iGlobal LLC is a technology company which specializes in providing solutions for transportation, logistics and distribution industries. We build hardware and develop software that resolves critical business dilemmas, especially those involving fleet management and communication technologies.
---