The 2015 Great American Trucking Show Concludes
By some news accounts, more than 30,000 attended the 2015 Great American Trucking Show, a three-day event considered the pinnacle in the trucking industry.
At once entertaining, educational, informative and productive, the show provided a wide spectrum of panels, forums vendors and a big rig beauty contest.
We at iGlobal LLC showcased three new products at the event, including the iVision X.1, X.2 and X.5. The newly developed tracking technologies are designed to change the way fleets do business.
Ray Rodriquez's 2015 Peterbilt 389 and Western step deck was named the 2015 Overdrive's Pride & Polish National Champion in the Limited-Mileage Combo category, according to Overdrive Magazine.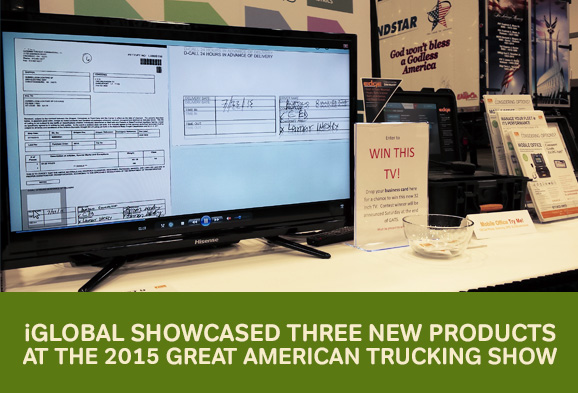 The other champions were Phil Miller's 2010 Pete 389 and Wilson livestock hauler, which won the Working Combo category; Vinnie Diorio's 1985 Peterbilt 359 in the Working Bobtail category; and Todd Roccapriore's 1999 Peterbilt 379 – called "Disorderly Conduct" – in the Limited-Mileage Bobtail category.
The show was Aug. 27 – 30. The show at Dallas' Kay Bailey Hutchison Convention Center attracted representatives from more than 50 fleets. iGlobal LLC president Eric Bauer said the show attracted a wide variety of fleet leaders.
The iVision X.1, a tethered tracking device with a 6-month rechargeable battery, is designed for reliable long-term deployments. The rechargeable lithium ion battery pack makes it easy for managing assets that are tethered to a 12- or 24-volt system but may sit disconnected for months at a time. The X.1 can be used with any vehicle, machinery, trailer or device that has a 12 or 24 volt power source.
The iVision X.2 is un-tethered, AA battery-powered and sends twice daily GPS location signals. The iVision X.5 is also un-tethered and powered by a lithium ion long-life battery (lasting at least five years), which never needs recharging.
iGlobal LLC builds hardware and develops software that resolves critical business dilemmas, especially those involving fleet management and communication technologies.
Go to our Products tab or call today for a demonstration! Connect us on our social media channels.
---