Senate, House Approve Bill Extending Highway Funding 3 Weeks
The Senate and the House voted last week to keep the Highway Trust Fund rolling until Nov. 20. President Obama signed the legislation late last week, which ensures states continue to receive federal reimbursements for highway and mass transit projects, according to news sources.
iGlobal LLC monitors news and trends concerning the trucking and transportation industries to help fleets keep pace with regulatory and policy developments.
The Senate approved the short-term extension Oct. 29. The House passed its version of the bill Oct. 28, according to USA Today.
The bill extends funding to Nov. 20, according to Overdrive Magazine. The bill is the third funding extension this year and the 35th this decade. The aim of the extension is to give lawmakers more time to develop a long-term highway bill.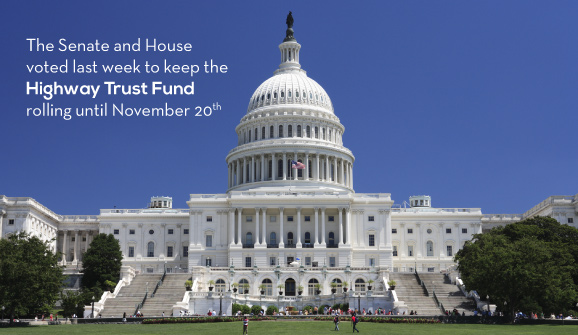 Railroad Industry Unable to Meet Federal Deadline
The bill stemmed from the railroad industry's failure to meet its deadline for installing new brake technology, known as Positive Train Control. The original deadline was set for 2008; the new one is 2018.
Railroad industry lobbyists had argued that the technology was too complex and costly to implement on the earlier deadlines, according to The Washington Post. Sen. John Thune, R-South Dakota, said the legislation extending the deadlines would prevent "devastating" economic consequences.
House leaders have written the policy portion of a long-term bill, which cleared a committee vote last week. The House version lacks specific funding provisions, which the House's Ways and Means Committee are expected to address.
The Senate approved a similar bill last July that included provisions for three years of funding. The House and Senate are expected to form a joint committee to resolve differences in their bills.
Experts anticipate both versions of the legislation to lay the groundwork for states to hike tolls on Interstates, according to Overdrive Magazine.
The three-week extension gives lawmakers time to debate a six-year, $325 billion surface transportation bill, according to The Wall Street Journal.
Trucking Technology Helps Clear the Way
iGlobal LLC president Eric Bauer said fleet managers can help prepare their operations to run smoother on the changing political landscape with technology that complies with federal rules, integrates successfully into their operations and boosts their business productivity.
With the EDGE Mobile Data Terminals, iGlobal LLC puts the highest quality and most up-to-date scanning and communication technology in your trucks' cabs;the sturdy and portable units are remarkably easy to operate and very user friendly.
iGlobal LLC builds hardware and develops software that resolve critical business dilemmas, especially those involving fleet management and communication technologies.
Go to our Products tab or call today for a demonstration! We will continue exploring issues and events that shape the industry.
---