The Trucking Industry Expected To Undergo Radical Changes
Trucking fleet managers should brace for unprecedented challenges and opportunities in the near future that may significantly transform the industry.
Due to the federal government's anticipated imposition of new rules and regulations involving the implementation of new technological equipment in trucks and expanding driver shortages, fleet leaders will have to change the way they do business to survive in the marketplace, experts say.
Industry expert John G. Larkin spoke at Orlando's Transforum 2015 conference earlier this month and painted a stark yet potentially bright picture of the future of American trucking. Larkin is the lead transport analyst for the investment firm Stifel, Nicolaus, & Co., based in St. Louis, Missouri.
iGlobal LLC monitors trends and news in the trucking industry to guide managers in wise investing for successful fleets.
More than 1,000 people attended the four-day conference. Many of the conference speakers discussed how trends in the national economy will shape the industry. The annual user conference and exhibition was designed for customers of TMW Systems, an iGlobal LLC partner.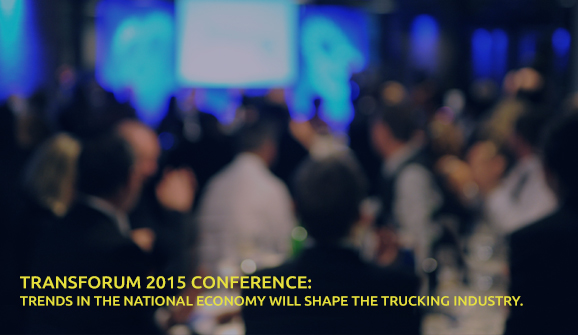 Changes in American Manufacturing Will Change Trucking Industry
"If carriers can provide sufficient capacity, the future looks very bright, provided the U.S. government can get out of the way and let us to our jobs," Larkin said.
Larkin said the projected rise in domestic manufacturing will spur transit, which may lead to a boon in the trucking industry, despite added layers of federal regulations. While the importation of foreign manufactured goods requires a comparably smaller demand on freight transport, shifting the manufacturing landscape to U.S. soil expands demand for domestic services exponentially. On the other side of the issue, a resurgent industry may also exacerbate already rising levels of driver shortages.
Larkin said he expects driver shortage levels to rise to nearly 240,000 in the next ten years, meaning fleet managers will have to get more creative and innovative in employing more attractive driver-incentive programs.
Part of that may entail providing better driver pay-and-benefit packages and improving working conditions and relations with dispatch, said iGlobal LLC president Eric Bauer. It also involves instituting the right type of fleet technology.
While many in the trucking and investment industries are waiting for more information about proposed federal rules on mandating the use of Electronic Logging Devices and Hours of Service, early indicators point to a vibrant economic upswing.
Larkin said one indicator is the auto industry's recent rebound coupled with the fact that the average age of cars and light trucks is at a 13-year high. Auto inventories remain low, which sets the stage on at least one level for big growth. "This could be the year that the economy breaks out of the slow-growth trends."
However, many experts are still wary as other signs – in the housing and construction industries – haven't followed similar trajectories.
Bauer said the wisest path for managers to take is to prepare for a promising future by equipping their fleets with technology that complies with federal rules, integrates successfully into their operations and boosts their business productivity.
With the EDGE Mobile Data Terminals, iGlobal LLC puts the highest quality and most up-to-date scanning and communication technology in your trucks' cabs, the sturdy and portable units are remarkably easy to operate and very user friendly.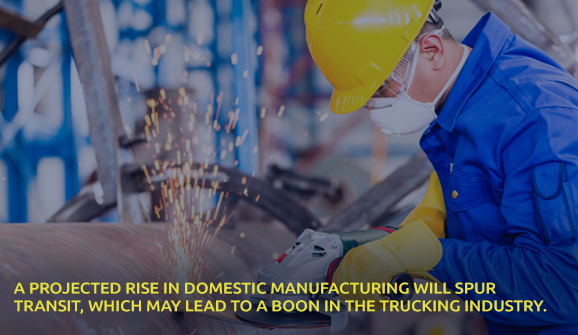 Here are some tips fleet managers can use to recruit and retain good drivers:
Social media plays a huge role in the lives of younger generations. Your business should effectively use all the social media tools and platforms.
While the standard truck-driver workweek has governed the industry for generations, people are looking for scheduling flexibility. Industry trends point to a rise in the appeal to recruits who are looking for nightly home time or variable time on the road.
The life of over-the-road truck driving presents both positive and negative enticements. The long hours away from home traveling cross country (or cross state) may be appealing to some recruits, but the added element of a week off after three or four weeks on the road makes it even more attractive. That gives drivers considerably more time to spend with their families or enjoy leisure activities.
The positive side of life on the road is definitely the travel aspect. The message to recruits might be tailored to emphasize that sense of travel and adventure. Long-haul drivers should also be reminded that they'll have the opportunity to see more of the landscape and the country than their desk-job peers may see in a lifetime. Put the panoramic vistas of the open road on display – on your social media channels.
While so many aspects of the industry appear to be undergoing a shift, you may want to offer drivers better pay and benefit packages. Sign-on bonuses and guaranteed miles are attractive offerings.
Change the image. Discard the stereotype. Many people may have the picture of truck drivers as overweight men in dirty jeans and torn, white tee-shirts. Put your cab – with its modern features and upscale technology – on full display. Show them what driving a truck in the 21st century looks like.
The proper technological tools make fleet management easier, more cost efficient and improve everyone's attitude.
iGlobal LLC builds hardware and develops software that resolve critical business dilemmas, especially those involving fleet management and communication technologies.
Go to our Products tab or call today for a demonstration! We will continue exploring issues and events that shape the industry.
---